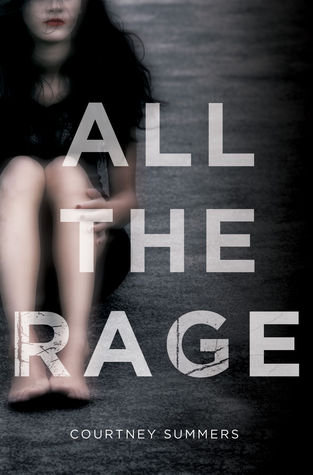 How did I get it?:
NetGalley- thanks to Pan Macmillan
Synopsis:
The sheriff's son, Kellan Turner, is not the golden boy everyone thinks he is, and Romy Grey knows that for a fact. Because no one wants to believe a girl from the wrong side of town, the truth about him has cost her everything—friends, family, and her community. Branded a liar and bullied relentlessly by a group of kids she used to hang out with, Romy's only refuge is the diner where she works outside of town. No one knows her name or her past there; she can finally be anonymous. But when a girl with ties to both Romy and Kellan goes missing after a party, and news of him assaulting another girl in a town close by gets out, Romy must decide whether she wants to fight or carry the burden of knowing more girls could get hurt if she doesn't speak up. Nobody believed her the first time—and they certainly won't now — but the cost of her silence might be more than she can bear. 
Thoughts:
This is the first time that I've read a book by Courtney Summers. I have heard so much about her books, but for some reason never really got around to reading them. I will definitely rectify that after reading All The Rage. This book really captured my attention. It was so well written. I can't believe I've missed out on reading this fantastic author!
It's going to be so hard to review this book because it was a horrible read. However, it was horrible in a gripping way and in an important way. The subject matter is incredibly real, but tough to deal with. Yet, it's subject matter that should be explored in books because it does happen and I believe needs to be represented.
All The Rage centres around Romy, a young girl who was raped several months before. Romy is being isolated by her peers as they don't believe the boy (the Sheriff's son) she accused would do a thing like rape a girl. Romy has lost her friends and her reputation has been damaged. Romy was drinking on the night of the attack and her peers believe it was all Romy's fault. All The Rage shows the aftermath of the attack and how Romy tries to move on with her life and find herself once more. Romy finds herself surrounded by more drama when her ex best friend Penny visits her and tells her she believes her and needs to speak up about the attack before someone else gets hurt. Penny goes missing and Romy has to find the strength to deal with another tough situation.
I really felt sorry for Romy in this book. She's not perfect, she's made mistakes, but I felt so sympathetic for her. I couldn't believe the way she was treated. Courtney Summers did a great job of making me feel for Romy and absolutely hate her peers who treated her disgustingly. I was thrilled that Romy's mum and her mum's boyfriend were so supportive. All too often parents are missing or don't care in YA fiction, and it's good to read about supportive adults in the main character's lives. I also really liked Romy's boss at work who was so caring and understanding. Leon, a guy that Romy begins to trust was an amazing character too. I really believed in their relationship and loved seeing it grow from strength to strength.
All The Rage is packed full of action, drama, horror and much more besides. I could not stop turning the pages. This book is so real, so raw and SO good. The only thing preventing me from giving it the full five star treatment is that I wanted more resolution with the ending.
Would I recommend it?:
Of course! 4.5 stars
I absolutely devoured this book. I can't wait to read more from Courtney Summers!