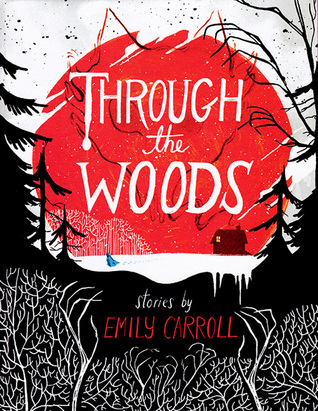 How did I get it?:
I bought it!
Synopsis:
Five mysterious, spine-tingling stories follow journeys into (and out of?) the eerie abyss.
These chilling tales spring from the macabre imagination of acclaimed and award-winning comic creator Emily Carroll.
Come take a walk in the woods and see what awaits you there…
Thoughts:
I'm really getting into graphic novels! I never thought they were for me, but I'm always happy to be proved wrong. I've found that they quite often get me out of reading slumps or that they're good books inbetween longer reads.
I enjoyed these stories from Emily Carroll, however they weren't all as good as each other. Several days after finishing the book there's one that has really stuck in my mind which is A Lady's Hands Are Cold. I can't stop thinking of it. It really did unsettle me! I have such a vivid imagination and I thought Emily Carroll's stories were wonderfully creepy! It probably wasn't the best idea to read it so late at night, but I really couldn't put it down!
The illustrations in Through The Woods are so stunning. I loved the colours used and they fit the story so wonderfully. Every story is different from another and the story is often open to the reader's interpretation. Some might get frustrated by them though. There's no resolution in any of the stories.
I think you'd enjoy this graphic novel if you're into fairy tale stories like Brothers Grimm, if you're into horror and creepy stories. The stories feel old fashioned yet contemporary at the same time.
Would I recommend it?: 
Yes!
A creepy graphic novel which would be perfect for a Halloween read!