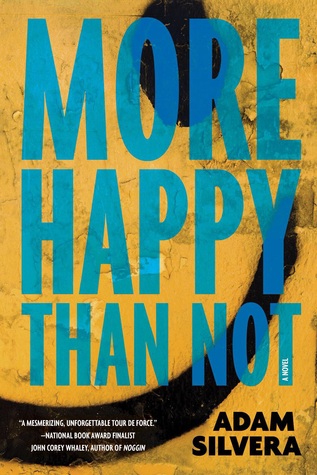 How did I get it?:
I bought it!
Synopsis:
In the months after his father's suicide, it's been tough for 16-year-old Aaron Soto to find happiness again–but he's still gunning for it. With the support of his girlfriend Genevieve and his overworked mom, he's slowly remembering what that might feel like. But grief and the smile-shaped scar on his wrist prevent him from forgetting completely.
When Genevieve leaves for a couple of weeks, Aaron spends all his time hanging out with this new guy, Thomas. Aaron's crew notices, and they're not exactly thrilled. But Aaron can't deny the happiness Thomas brings or how Thomas makes him feel safe from himself, despite the tensions their friendship is stirring with his girlfriend and friends. Since Aaron can't stay away from Thomas or turn off his newfound feelings for him, he considers turning to the Leteo Institute's revolutionary memory-alteration procedure to straighten himself out, even if it means forgetting who he truly is.
Why does happiness have to be so hard?
Thoughts:
I adore this book. I really didn't expect to. I think it really helped that I didn't know a lot about it before I jumped into it. It's not a long read at all at under 300 pages, but I took my time with it because I wanted to devour every word. It really is astounding that More Happy Than Not is Adam Silvera's debut. It's so accomplished.
More Happy Than Not centres around Aaron who is trying to find happiness after his father killed himself. He leans on his girlfriend Genevieve and then his new friend Thomas after Genevieve goes away for a couple of weeks. Aaron develops a good bond with Thomas which begins to affect his other relationships. Aaron finds himself incredibly confused and wants to turn to the Leteo Institute for a procedure they do. The Leteo Institute have a memory-alteration programme. They offer the chance to make patients forget things they want to forget forever. Aaron isn't sure whether to go through with the procedure as it may make him forget who he really is.
I won't deny that this book is hard to read. It is. The topics covered are NOT easy. It's not a light read. Adam Silvera writes in such a raw way. He really evokes emotion in the reader which I highly appreciate. I had to put the book down at points and think about what I had read. Would I want to erase parts of my past if I had the chance? It made me think about what our memories mean to us.
The story itself is split into three parts which fit together so well. The chapters are short and snappy. I found it unpredictable. I really though I knew where the story was going but I was wrong. Midway through there is a plot twist and I certainly didn't see it coming. I was so immersed in the writing and the thoughts it evoked that I didn't even consider the plot twist.
The reason why I haven't given this book five stars was because I expected more about the Leteo Institute. I thought it was a really interesting concept and would've liked to have read more about it.
I am so excited to read more from Adam Silvera. He really is a talent to look out for.
Would I recommend it?:
Of course! 4.5 stars
A fantastic debut with dark, intriguing content.