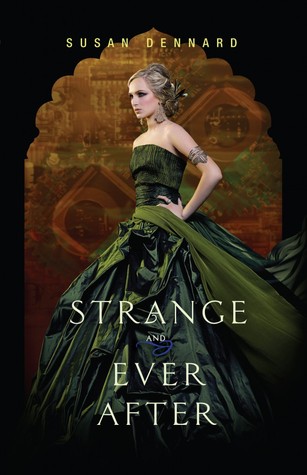 How did I get it?:
I bought it!
Previously reviewed by the same author:
Something Strange And Deadly
A Darkness Strange And Lovely
Synopsis:
With supernatural forces, epic romance, and a mysterious Egyptian city, Eleanor and her team are set for an adventure they will never forget.
It has been a tumultuous time for Eleanor Fitt since life as she knew it in Philadelphia came abruptly to an end. Although the Spirit-Hunters Joseph, Jie, and Daniel have helped her survive, Eleanor has lost just about everything.
And now, Jie is missing taken by the evil necromancer Marcus. Eleanor is determined not only to get her back but to finally end this nightmare. To do so, she must navigate the hot desert streets of nineteenth-century Egypt amid the rising Dead, her unresolved feelings for Daniel, and her volatile relationships with Joseph and Oliver, her demon. And it won't be easy. Because Allison, her friend from Philadelphia, has tagged along, becoming strangely entangled in Eleanor's mission.
It will take all of Eleanor's powers of black magic, and all of Daniel's and Joseph's trust, to succeed. But there will be a price.
Thoughts:
I have finally completed the Something Strange and Deadly trilogy. Now I'm not saying it's been a hard slog to finish it. I've found it enjoyable, but you know what it's like being a bookworm. Too many books, too little time. I'm thrilled I managed to finish another series, especially one that is written as well as Susan Dennard's! As always, it's hard to review a final book in the series, so I shall try not to give too much away.
I have loved this trilogy from the beginning. It surprised me, as it's not a genre that I often read. It's a mix of science fiction, steam punk, YA and a bit of paranormal alongside it. The concluding book in the series is absolutely action packed. It kept me turning the pages. I definitely think that the ending of the trilogy will divide its readers.
Strange and Ever After begins in Paris and finally ends up in Egypt. Eleanor finds out some bad news about her mother. Eleanor starts to push everyone close to her away. However, she can't focus on her emotions for too long as Marcus is becoming even more powerful. She has to work out how to stop him before he gets to her.
As I mentioned, I believe that the ending will divide its readers. All I can really say about that without spoiling it for too many is that there is a death that shocks. I personally thought it worked. It tied up the trilogy and ensured that there were no unanswered questions. However, I can totally see how it will irk many readers!
Would I recommend it?:
Yes!
This trilogy has an ending which'll divide readers, but I found it to be a highly enjoyable series!