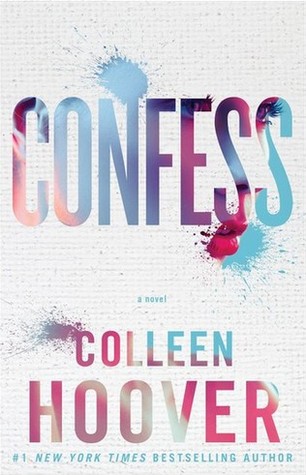 How did I get it?:
I bought it!
Previously reviewed by the same author:
Slammed
Point of Retreat
This Girl
Hopeless
Losing Hope
Maybe Someday
Ugly Love
Synopsis:
Auburn Reed has her entire life mapped out. Her goals are in sight and there's no room for mistakes. But when she walks into a Dallas art studio in search of a job, she doesn't expect to find a deep attraction to the enigmatic artist who works there, Owen Gentry.
For once, Auburn takes a risk and puts her heart in control, only to discover Owen is keeping major secrets from coming out. The magnitude of his past threatens to destroy everything important to Auburn, and the only way to get her life back on track is to cut Owen out of it.
The last thing Owen wants is to lose Auburn, but he can't seem to convince her that truth is sometimes as subjective as art. All he would have to do to save their relationship is confess. But in this case, the confession could be much more destructive than the actual sin…
Thoughts:
I have to confess (ha!), I really enjoy Colleen Hoover's books. I'm finding it hard to keep up with her releases though! I'm a little bit behind on her recent releases, so when I felt the need to read something I know that I'll enjoy, I picked up Confess. I was impressed with the story, which took me no time at all to whizz through. Colleen Hoover has a way of writing characters that you really feel for. I didn't love all of the characters in this book, goodness knows some frustrated me, but for the right reasons. I was supposed to be frustrated and irritated with some of the characters!
Confess centres around Auburn, who is in desperate need of money. The story opens with her meeting a lawyer, but it is not until later in the book that we find out why she needs the lawyer. As Auburn is on her way home, she notices a job being advertised in a local art gallery. At first, she doesn't realise what the job is actually for, but when she meets the employer Owen, a talented artist, who owns the studio, she knows she needs the job. Owen gets members of the public to leave their confessions which he then uses as inspiration for his paintings. Auburn is immediately drawn to Owen's work and the confessions that people leave.
Yes, it's totally predictable that Auburn and Owen are interested in each other, but the reader really does experience them falling in love as the story progresses. They spend so much time together. This story isn't just about the romance though, however cute it may be. It has much deeper content than you might expect. At times, this book is a little dramatic and you wonder if anything more can happen to Auburn and Owen. However, it didn't affect my enjoyment of the story.
I really rate Colleen Hoover as a writer. She's different to other new adult writers. I always appreciate the emotional depth that her books have.
Would I recommend it?:
Of course!
Another decent book from Colleen Hoover. I always know I'm getting a good book when I pick up one of hers!