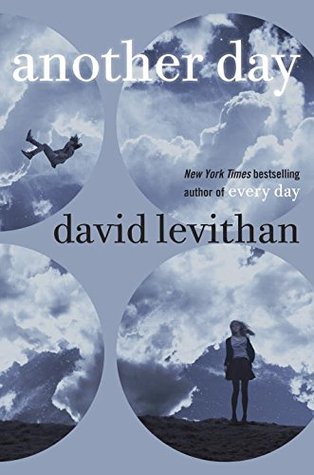 How did I get it?:
I bought it!
Previously reviewed by the same author:
Boy Meets Boy
Dash and Lily's Book of Dares
Nick and Norah's Infinite Playlist
Two Boys Kissing
Marly's Ghost
Every Day
Synopsis:
Every day is the same for Rhiannon. She has accepted her life, convinced herself that she deserves her distant, temperamental boyfriend, Justin, even established guidelines by which to live: Don't be too needy. Avoid upsetting him. Never get your hopes up.
Until the morning everything changes. Justin seems to see her, to want to be with her for the first time, and they share a perfect day—a perfect day Justin doesn't remember the next morning. Confused, depressed, and desperate for another day as great as that one, Rhiannon starts questioning everything. Then, one day, a stranger tells her that the Justin she spent that day with, the one who made her feel like a real person…wasn't Justin at all.
In this enthralling companion to his New York Times bestseller Every Day, David Levithan tells Rhiannon's side of the story as she seeks to discover the truth about love and how it can change you.
Thoughts:
If I'm totally honest, I wasn't sure about reading this book. I really enjoyed Every Day and didn't know if a story from Rhiannon's point of view was needed or necessary. I'm glad that I read it, but I don't think it's an essential read. It's hard to not compare the two books, but Every Day is far superior.
Another Day follows Rhiannon. It starts with her relationship with Justin, Rhiannon's boyfriend. One day he is completely different, she later finds out that this is because of A and the way he jumps from body to body every day. As in Every Day Rhiannon and A fall for one another, but life is tricky for them because of the fact that A is never in the same body from day to day. Rhiannon finds it hard to believe in at first, but then she begins to love A for who he is not the body that he is in.
It isn't just a retelling of Every Day. There are some new bits, but obviously some of the exchanges are the same. We'd expect that from a retelling from a different perspective. I still like Rhiannon as a character, but I don't think she came across as likeable as she did in Every Day.  However, I could understand some of Justin's reactions compared to how they were portrayed in Every Day. 
If you're a huge fan of Every Day and David Levithan, then I would say this book is worth reading for a different perspective. I would recommend that you don't go into it expecting to read a book as good as Every Day.
Would I recommend it?:
Yes!
A decent (albeit not as good as the original) companion novel!