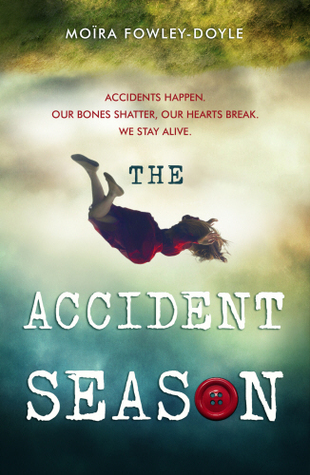 How did I get it?:
It was a Christmas present!
Synopsis:
It's the accident season, the same time every year. Bones break, skin tears, bruises bloom.
The accident season has been part of seventeen-year-old Cara's life for as long as she can remember. Towards the end of October, foreshadowed by the deaths of many relatives before them, Cara's family becomes inexplicably accident-prone. They banish knives to locked drawers, cover sharp table edges with padding, switch off electrical items – but injuries follow wherever they go, and the accident season becomes an ever-growing obsession and fear.
But why are they so cursed? And how can they break free?
Thoughts:
At the end of last year, I heard so much about this book throughout the blogosphere. I knew I wanted to get my hands on it, so I put it on my Christmas wishlist. I was lucky enough to get a copy at Christmas time! I'm thrilled that I did, because I thoroughly enjoyed this unusual read, which really wasn't what I expected it to be. It's an incredible debut novel which makes me very excited for the author's future work!
The Accident Season centres around Cara and her siblings. Cara's family have been cursed with bad luck. Every October, they have to be careful as it is the accident season. It is a time when every member of the family gets hurt in one way or another. Some accident seasons have ended in death- others are cuts, bruises and broken bones. Cara's mother is extremely paranoid and makes her family cover up, she hides dangerous items and does everything she can to prevent accidents. Cara is infuriated by her mother's paranoia. She decides that this year she will have a Halloween party in a spooky old house that she's just discovered. The Accident Season is mysterious throughout. We begin the story learning about a girl named Elsie who is strangely in every photograph that Cara has taken. Cara wants to find out why Elsie is appearing everywhere and then suddenly, isn't as present in 'real life'.
Don't expect to go into reading The Accident Season expecting to know what was going on. There were times throughout that I didn't have a clue where the story was going. I didn't always understand what was going on at all times, but that's what was so unique about it. I wasn't frustrated though. It really worked in this book.
I struggled to categorise this book, because there really is a slice of everything. It's certainly a YA read, but it's also got a paranormal, fantasy, magical realism and a slice of romance edge to it. It's a book that many readers will enjoy but at the same time, I get the feeling its uniqueness will divide! I recommend that you read it to form your own opinion!
Would I recommend it?:
Of course!
A fantastic, addictive debut which will make you think!