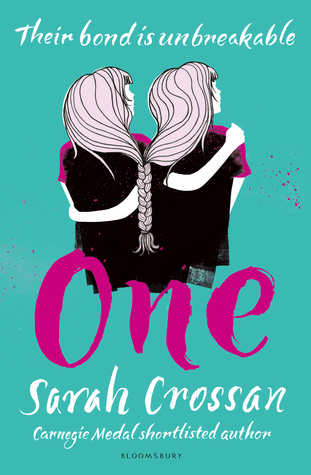 How did I get it?:
I bought it!
Previously reviewed by the same author:
The Weight Of Water
Synopsis:
Grace and Tippi are twins – conjoined twins.
And their lives are about to change.
No longer able to afford homeschooling, they must venture into the world – a world of stares, sneers and cruelty. Will they find more than that at school? Can they find real friends? And what about love?
But what neither Grace or Tippi realises is that a heart-wrenching decision lies ahead. A decision that could tear them apart. One that will change their lives even more than they ever imagined…
Thoughts:
I have to admit, I wasn't the biggest fan of The Weight of Water. I have Apple and Rain coming up soon, which I hear is wonderful. However, I heard so many good things about One that I just had to check it out. I'm glad I did. It was an absolutely beautiful book. At times, I felt incredibly moved and at other times there was some lovely light humour which was much needed in a story that is really quite devastating.
I was a little worried about One being in verse. Mainly because most of the time I read poetry I feel like an uneducated idiot. It's just not my thing, usually. However, I was pleasantly surprised at how much I enjoyed One. It is written as a collection of poems, which can be read as each poem being a new chapter, that is exactly how I read it!
One follows the story of Grace and Tippi who are conjoined twins. Grace and Tippi have to leave their home schooling and join a school for the first time. Grace and Tippi prepare themselves to be started at and whispered about. They don't expect to find two wonderful friends Yasmeen and Jon.
I think this book is so special because you really feel invested in Grace and Tippi's story. It sweeps you up in the emotions and you just have to hang on for the ride. I loved reading about the family dynamics. Grace and Tippi have a younger sister who has her own troubles. It really is intense but utterly readable at the same time. It didn't take me long to read at all. I shall certainly look forward to Apple and Rain! 
Would I recommend it?:
Of course!
A beautiful, heart-warming story!