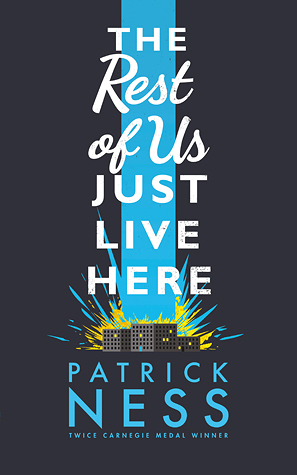 How did I get it?:
It was a gift!
Previously reviewed by the same author:
The Knife Of Never Letting Go
The Ask and The Answer
Monsters Of Men
A Monster Calls
More Than This
Synopsis:
What if you aren't the Chosen One?
The one who's supposed to fight the zombies, or the soul-eating ghosts, or whatever the heck this new thing is, with the blue lights and the death?
What if you're like Mikey? Who just wants to graduate and go to prom and maybe finally work up the courage to ask Henna out before someone goes and blows up the high school. Again.
Because sometimes there are problems bigger than this week's end of the world, and sometimes you just have to find the extraordinary in your ordinary life.
Even if your best friend is worshipped by mountain lions.
Thoughts:
I'm not going to beat about the bush here. Patrick Ness is one of my favourite writers. EVER. Which makes it incredibly hard when he comes out with a new book, because my expectations for his books are exceptionally high. I needn't have been worried about The Rest Of Us Just Live Here as it was exceptional. I was pulled into the story right from the get go. There were moments that I was a little confused…I have to admit. However, I've come to expect a little bit of confusion in Patrick's stories.
The Rest Of Us Just Live Here is a pretty hard book to try and describe. The reader starts off the chapter with a summary of what would have happened if it was told from the point of view of the chosen one. That was a little odd, but promise me, go with it! The main story follows a boy and his friends who are experiencing some incredibly weird events. It really focuses on the weird paranormal activities that keep following everyone around and Indie kids that keep dying. It's all VERY odd but utterly readable at the same time. Patrick Ness is an incredible writer, so just stick with the weirdness, embrace it and let that beautiful writing sink in…
Another aspect of this book that I adored was the focus on mental illnesses. Patrick Ness created characters that were suffering with their mental health. As someone who struggles with anxiety on a day to day basis, I really appreciated his representation and to be honest, it's not often that I can say that. I'm incredibly picky with how anxiety is portrayed in literature. There is a scene where Mikey speaks to his therapist that really, really resonated with me. *sigh*
The family (aside the parents) are wonderful. They care about each other so much that it makes me all warm and fuzzy. I love a family that get on, even if they have crappy parents. I ADORE the characters that Patrick Ness creates. I love how they're often searching for their place in the world. It's so relatable to many readers. I also love it when he slips in a LGBTQ character, because why shouldn't they have a lot of representation?
Would I recommend it?:
Without a doubt!
If you haven't read Patrick Ness then you're missing out! The Rest Of Us Just Live Here is incredible!