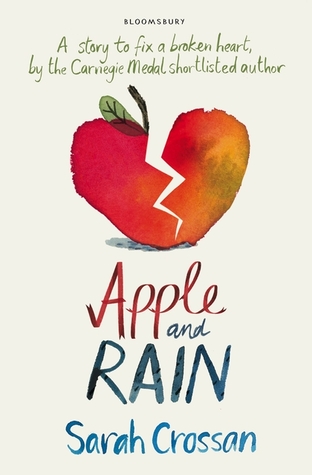 How did I get it?:
I won it a few years back!
Previously reviewed by the same author:
The Weight Of Water
One
Synopsis:
When Apple's mother returns after eleven years away, Apple feels whole again. But just like the stormy Christmas Eve when she left, her mother's homecoming is bittersweet. It's only when Apple meets someone more lost than she is that she begins to see things as they really are.
A story about sad endings.
A story about happy beginnings.
A story to make you realise who is special.
Thoughts:
I have had Apple and Rain for such a long time now. I'm not sure why I hadn't got around to reading it sooner. However, as soon as read and adored One, I knew it was time to pick up this book. There's definitely an emotional impact in this book. It centres around family. The good and the bad.
Apple and Rain centres around Apple, who has lived with her grandmother, since her mother walked out on her years ago. Apple has been brought up by her Nan who is rather strict with her. She embarrasses her by picking her up from the school gates on a school day. Apple doesn't realise just how much her Nan cares for her. One day out of the blue, Apple's mother returns from America and wants Apple back in her life. Apple is willing to move in with her mother straight away. She's always put her mother on a pedestal and justified her absences. Apple soon realises that her mother isn't exactly who she wanted her to be and there are some shocks lurking around the corner.
I was really frustrated by the absent parents in this book. It was really irritating, because it was clear that a solid family unit would have solved A LOT of problems. Apple's dad wasn't much good either. I felt for Apple's grandmother, the way that she was treated made me sad! I hope this doesn't sound like I didn't enjoy reading about these characters. I did! They're just so well written that it made me frustrated by their actions and bad decisions.God knows there were a lot of bad decisions from the characters in this book. Apple makes some stupid choices because she wants to impress her mother. Her mother and father are just not great parents…but this book is about the importance of family and second chances.
Would I recommend it?:
Of course!
An easy to read story about family struggles with a little slice of poetry and light humour!