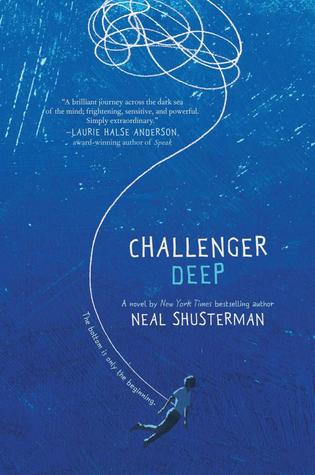 How did I get it?:
I bought it!
Previously reviewed by the same author:
Unwind
Synopsis:
Caden Bosch is on a ship that's headed for the deepest point on Earth: Challenger Deep, the southern part of the Marianas Trench.
Caden Bosch is a brilliant high school student whose friends are starting to notice his odd behavior.
Caden Bosch is designated the ship's artist in residence, to document the journey with images.
Caden Bosch pretends to join the school track team but spends his days walking for miles, absorbed by the thoughts in his head.
Caden Bosch is split between his allegiance to the captain and the allure of mutiny.
Caden Bosch is torn.
A captivating and powerful novel that lingers long beyond the last page, Challenger Deep is a heartfelt tour de force by one of today's most admired writers for teens.
Thoughts:
I am always nervous about going into books where I hear so many positive things about it. To me, there seemed to be a lot of hype around this book. I heard that it was an intense read about mental illness. I also heard that the author drew on personal experience drawing on his son's experience of mental illness. Immediately that gained my respect. All too often, mental health isn't represented brilliantly in stories, but I do believe that this is getting better- which is really positive! Challenger Deep is a powerful story which deserves to be read. I didn't blow me away as much as I wanted to, but it really does have some beautiful moments within its pages!
Challenger Deep centres around a boy called Caden who is struggling with his mental health. The story splits into two parts- one where we see Caden on a ship and the other part of the story was Caden at home with his parents and sister. We see Caden's mental health really decline until he is admitted to a mental health facility. I have to admit, that I preferred to read about Caden's story at home and at the mental health facility. The parts on the ship were a little confusing to begin with until I recognised the importance of reading about Caden's imagination. It really was significant to his state of mind, so don't let it put you off!
I really appreciated how Challenger Deep showed that there really isn't a definitive cure to mental health. Of course, you can get better, recover and have brighter moments, but it is not something that can be easily fixed. It is a battle and Challenger Deep recognises and values that.
Would I recommend it?:
Yes! 3.5 stars
A very deep, sensitive look into mental illness.