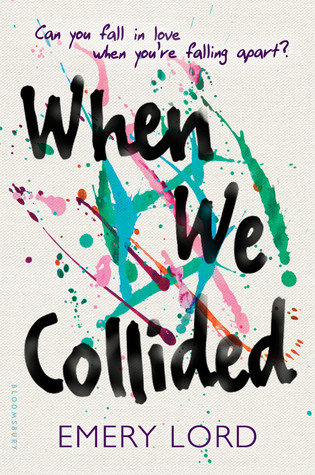 How did I get it?:
I bought it!
Previously reviewed by the same author:
Open Road Summer
The Start Of Me And You
Synopsis:
Jonah never thought a girl like Vivi would come along.
Vivi didn't know Jonah would light up her world.
Neither of them expected a summer like this…a summer that would rewrite their futures.
In an unflinching story about new love, old wounds, and forces beyond our control, two teens find that when you collide with the right person at just the right time, it will change you forever.
Thoughts:
Emery Lord is one of my favourite contemporary writers. In fact, she's become an auto buy author. I preordered this book way before it came out and started it the day that it arrived with me. I didn't enjoy it as much as Emery's previous books, however, it was still a brilliant read and if you're a fan of Emery's or the YA contemporary genre then I think you'd enjoy it.
When We Collided is told through a dual narrative. We hear from Vivi and Jonah who have a lot going on in ther lives. Vivi and her mother are having a break for the summer, after Vivi really needed to escape. Whilst away, Vivi meets Jonah. Jonah is caring for his huge family after the sudden loss of his father. Jonah's mum has been completely swallowed by grief. Jonah and his older siblings have to look after the 'littles.' Vivi and Jonah meet each other and spend the summer trying to care for one another in their darkest times.
I really appreciate that Emery dealt with mental health issues in contemporary fiction. Throughout the story she writes about grief, depression and bipolar. I appreciated the representation- that's for sure. It makes the story have a darker edge. I believe it was represented in a realistic way. I liked how the mental health issues were discussed- there was no beating about the bush. It was clear what was happening to both families.
I absolutely adored Jonah. I thought he was a wonderful character, he made me want to get inside the book and just hug him! I'm sad to say that I didn't enjoy all of the characters as much as I wanted to. Vivi's mum frustrated me a lot. The warning signs were there and she didn't seem as supportive as she could be. I also didn't believe in Vivi and Jonah's relationship. It felt very instalove-y and also a tad posionous for my liking. That said, there are some swoonworthy moments if you're into that sort of thing! 😉
Would I recommend it?:
Yes- 3.5 stars
A decent contemporary read! Worth checking out!