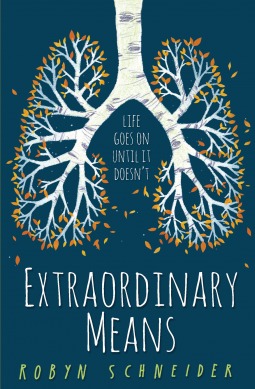 How did I get it?:
It was a present from my sister, Beth!
Synopsis:
When he's sent to Latham House, a boarding school for sick teens, Lane thinks his life may as well be over.
But when he meets Sadie and her friends – a group of eccentric troublemakers – he realises that maybe getting sick is just the beginning. That illness doesn't have to define you, and that falling in love is its own cure.
Extraordinary Means is a darkly funny story about true friendships, ill-fated love and the rare miracle of second chances.

Thoughts:
Extraordinary Means is a book that I had heard lots about when it released. Me being me though, I took my sweet time getting around to reading it because I have TOO many books that I want to read right NOW on my TBR. Oh, the life of a bookworm! I'm really glad I made time to read this book though, as it really is a beautiful read. It's quite dark at points. Of course it will be, it's about a school for sick teens, but there are also some light and funny moments which really makes the book quite special. I was particularly moved towards the end of the story. It certainly gave me a lump in my throat.
Extraordinary Means centres around a school called Latham Hall where teens with tuberculosis are sent to recover. Some recover, some don't. The story is so bittersweet. I absolutely loved how it was written though. There's so much humour. You almost feel bad to laugh because what the teenagers are going through is so horrible. Yet at the same time, it's great that they can have light moments in such a dark period of their lives.
This story is full of amazing characters. I don't think there's a character in the story that I didn't like. The characters aren't perfect which I always love. Who loves reading about a perfect character? Nobody. These characters are potentially facing death, but still make awful decisions which makes them feelso real. Extraordinary Means is narrated by Lane and Sadie. I absolutely adored their narrations. Lane is probably one of my new favourite male characters. He's totally relatable if you're a workaholic.
There are some deaths in this book. I'm not going to lie and say it's a happily ever after story. It's not. It's a book about incredibly sick teens. I did think the characters that died were going to die, but this didn't affect my enjoyment. Especially because with one, it particularly threw me, I didn't expect them to go the way that they did.
I can totally see why this book has been compared to John Green, but I have to say, I enjoyed Extraordinary Means much more than John Green's books. This book will stay with me for a while!
Would I recommend it?:
Of course!
An emotional, but darkly funny read!