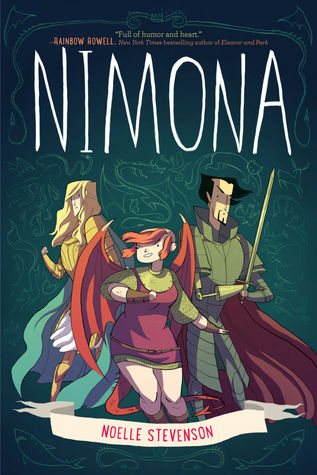 How did I get it?:
I bought it!
Synopsis:
Nemeses! Dragons! Science! Symbolism! All these and more await in this brilliantly subversive, sharply irreverent epic from Noelle Stevenson. Featuring an exclusive epilogue not seen in the web comic, along with bonus conceptual sketches and revised pages throughout, this gorgeous full-color graphic novel is perfect for the legions of fans of the web comic and is sure to win Noelle many new ones.
Nimona is an impulsive young shapeshifter with a knack for villainy. Lord Ballister Blackheart is a villain with a vendetta. As sidekick and supervillain, Nimona and Lord Blackheart are about to wreak some serious havoc. Their mission: prove to the kingdom that Sir Ambrosius Goldenloin and his buddies at the Institution of Law Enforcement and Heroics aren't the heroes everyone thinks they are.
But as small acts of mischief escalate into a vicious battle, Lord Blackheart realizes that Nimona's powers are as murky and mysterious as her past. And her unpredictable wild side might be more dangerous than he is willing to admit.
Thoughts:
I had Nimona on my radar for a long time now. I have recently started to get into graphic novels and picked up a copy of Nimona when I noticed it around a few blogs. I'd heard amazing things about it, so in the midst of a book slump, I decided to pick it up. I thought Nimona was a funny, intriguing, action-packed read.
Having not read a lot of graphic novels thus far, I can't really compare the art work. I did really enjoy Noelle Stevenson's style though. It was bright, simple and caught my eye. It certainly captured my attention.
Nimona is all about villains vs heros, but certainly not villains as you might expect them. As you read the story you realise the villains aren't great people, but at the same time, you end up rooting for them. Nimona is a shapeshifter, but there's so much more to her character than I ever anticipated.
The story is action-packed. I was expecting a lighter read, but it really is quite dark at times. There were some lovely moments throughout and some wonderful humour too. A perfect combination. It's perfect at playing around with fantasy and fairy tales.I raced through the story, wanting to know what was going to happen next. I would definitely read more from this talented writer!
Would I recommend it?:
Of course!
A fantastic graphic novel which many YA fans will adore!