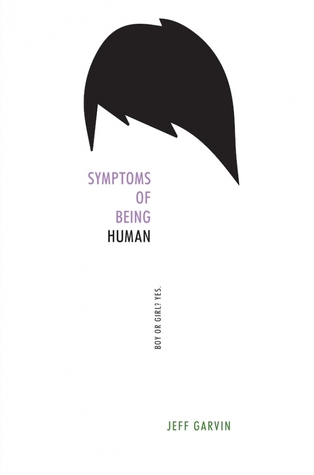 How did I get it?
I bought it!
Synopsis
Riley Cavanaugh is many things: Punk rock. Snarky. Rebellious. And gender fluid. Some days Riley identifies as a boy, and others as a girl. The thing is…Riley isn't exactly out yet. And between starting a new school and having a congressman father running for reelection in uber-conservative Orange County, the pressure—media and otherwise—is building up in Riley's so-called "normal" life.
On the advice of a therapist, Riley starts an anonymous blog to vent those pent-up feelings and tell the truth of what it's REALLY like to be a gender fluid teenager. But just as Riley's starting to settle in at school—even developing feelings for a mysterious outcast—the blog goes viral, and an unnamed commenter discovers Riley's real identity, threatening exposure. Riley must make a choice: walk away from what the blog has created—a lifeline, new friends, a cause to believe in—or stand up, come out, and risk everything.
Thoughts
I have had Symptoms of Being Human on my radar for a while now. It won't be a surprise to anyone to read that I like reading diverse books. I love to see all kinds of people represented in literature, especially YA literature, where I feel it is incredibly important to portray a range of individuals. I thought Symptoms of Being Human was a decent read. I believe it does suffer from a slow pace though. Despite it being a short read,  I didn't whizz through the book.
The story centres around Riley, who is gender fluid, the author describes gender fluid as sometimes identifying as female and sometimes male. What I thought was interesting about this book, was that the author never tells us which gender Riley was assigned as at birth. At first I was a little frustrated that I didn't know, but then I considered that the author is giving readers the message that it really doesn't matter what gender you were assigned at birth, especially if you identify as gender fluid. I appreciated that message, but I do think it meant that some conversations were skirted around and never really addressed. However, I totally appreciated that the author just gets us to see Riley as a human. Riley's gender shouldn't matter.
I found it easy to like Riley. I loved that there was a bit of blogging involved. I enjoy reading books that are so current. I also felt that Riley's blog posts were informative to how Riley felt about gender fluidity. I feel that Symptoms of Being Human is a great book to learn about gender fluidity and begin to understand how it feels for those that identify as gender fluid.
Would I recommend it?:
Yes! 3.5 stars
A decent read if you want to explore the subject of gender fluidity!