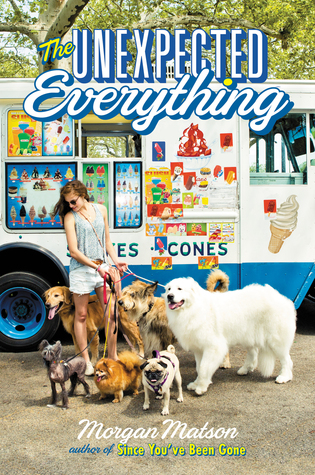 How did I get it?:
I bought it!
Previously reviewed by the same author:
Second Chance Summer
Since You've Been Gone
Synopsis:
Andie had it all planned out.
When you are a politician's daughter who's pretty much raised yourself, you learn everything can be planned or spun, or both. Especially your future.
Important internship? Check.
Amazing friends? Check.
Guys? Check (as long as we're talking no more than three weeks).
But that was before the scandal. Before having to be in the same house with her dad. Before walking an insane number of dogs. That was before Clark and those few months that might change her whole life.
Because here's the thing—if everything's planned out, you can never find the unexpected.
And where's the fun in that?
Thoughts:
I think I'm one of those rare bloggers that didn't really like Morgan Matson's Amy and Roger's Epic Detour. For me, it was okay, but not the best. However, with Second Chance Summer and Since You've Been Gone, I understood what the fuss was about Morgan's writing. Personally, I didn't enjoy The Unexpected Everything as much as the previous two books. Don't get me wrong, it was still enjoyable and I still adore Morgan's writing. I just feel that this book was too long and could've easily been shorter to increase the pace significantly.
At the heart of The Unexpected Everything is a story about famiy life. There's a bit of romance (of course, it's contemporary!) and a story about growing up and learning to cope with loss. Our protagonist is Andie who is a congressman's daughter. Andie is determined and willing to strive for her dreams. She thought she had her summer sorted out, until her father's political scandal ruins her plans. She's forced to find another job for the summer and never anticipated that she'd be walking dogs.
There are some fantastic characters around Andie. I found her father to be completely frustrating, but at the same time, I understood that he was going through his own battles. I loved Andie's group of friends too. The romance is sweet, believable and had me rooting for it!
The only reason I didn't give this book a higher rating was because of the (in my opinion) totally unnecessary length which certainly dampened my enjoyment.
Would I recommend it?:
Yes! 3.5 stars
A cute contemporary about family life!