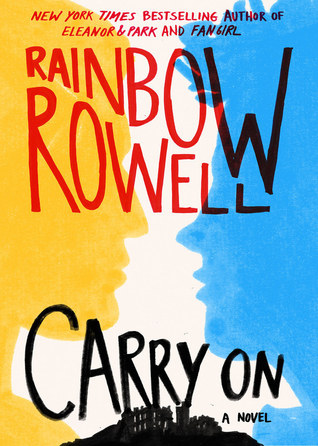 How did I get it?:
It was a Christmas gift from my sister-in-law and brother!
Previously reviewed by the same author:
Attachments
Eleanor & Park
Fangirl
Synopsis:
Simon Snow is the worst chosen one who's ever been chosen.
That's what his roommate, Baz, says. And Baz might be evil and a vampire and a complete git, but he's probably right.
Half the time, Simon can't even make his wand work, and the other half, he sets something on fire. His mentor's avoiding him, his girlfriend broke up with him, and there's a magic-eating monster running around wearing Simon's face. Baz would be having a field day with all this, if he were here—it's their last year at the Watford School of Magicks, and Simon's infuriating nemesis didn't even bother to show up.
Carry On is a ghost story, a love story, a mystery and a melodrama. It has just as much kissing and talking as you'd expect from a Rainbow Rowell story—but far, far more monsters.
Thoughts:
I have to admit that I'm not the biggest fan of Fangirl. I actually skimmed a lot of the Simon Snow parts of the story. It didn't do anything for me, so I was a little hesitant going into this book. Readers first came across Simon Snow in Fangirl when Cath wrote fanfiction which was based on her favourite book series. Carry On is Rainbow Rowell's continuation of Simon and Baz's story. It really doesn't matter if you skim read the Simon Snow parts of Fangirl. I actually preferred Carry On to Fangirl. It was funny, moving at points and so easy to read. For Harry Potter fans out there, there is certainly several nods to the series!
Carry On has an intriguing magical system and some very interesting characters to get to know. I absolutey adored reading about Simon and Baz… but I don't want to say too much and ruin it! I will say that there's a love Carry On really is a mixture of genres. It has fantasy, romance and some adventure. Carry On is really different to Rainbow Rowell's other book. It's fantasy first of all. Secondly, it feels really British! Rainbow Rowell's research is spot on. It feels so authentic! Readers will definitely spot the similarities to Harry Potter. It is fanfiction after all, which is why I didn't rate it any higher.
Despite its length (over 500 pages) and my dislike of the Simon Snow parts of Fangirl. I found Carry On to be highly enjoyable. It really didn't matter to me that I skimmed Simon Snow before. Simon and Baz's story was easy to follow and totally engaging!
Would I recommend it?:
Yes! 3.5 stars!
A decent, addictive, different read from Rainbow Rowell!