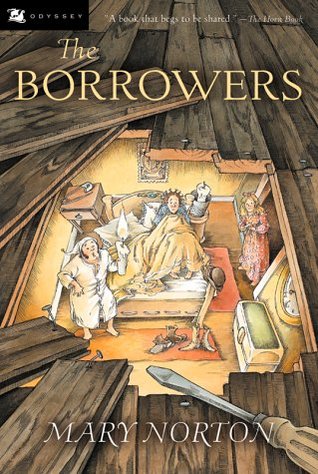 How did I get it?:
I borrowed it from Beth!
Synopsis:
Beneath the kitchen floor is the world of the Borrowers — Pod and Homily Clock and their daughter, Arrietty. In their tiny home, matchboxes double as roomy dressers and postage stamps hang on the walls like paintings. Whatever the Clocks need they simply "borrow" from the "human beans" who live above them. It's a comfortable life, but boring if you're a kid. Only Pod is allowed to venture into the house above, because the danger of being seen by a human is too great. Borrowers who are seen by humans are never seen again. Yet Arrietty won't listen. There is a human boy up there, and Arrietty is desperate for a friend.
Thoughts:
I don't think I ever read The Borrowers as a child. I know that I saw the DVD and I was definitely familiar with the story. I loved having the opportunity to read The Borrowers though as part of our kid-lit challenge.
The story follows a group of little people living inside Aunt Sophy's house. These little people 'borrow' from the humans. They use things like blotting paaper for their carpets and stamps for their artwork on their walls. Pod, Homily and Arrietty are the last Borrowers left. They had everything they needed- but sometimes needed to pop into the house to get supplies. The little family of Borrowers lived in the floorboards and could easily exit and enter to get what they needed. The Borrowers follows Arrietty as she befriends a 9 year old boy who is visiting Aunt Sophy's house. Life changes for The Borrowers quite quickly!
I thought this book was such a cute and easy to read book. It being published in 1952 could mean it's a little out of touch-however, I'm sure children can imagine little people 'borrowing' their latest toy, so I would totally recommend it to young children. I love it when children use their imaginations, so I'd love to see what they think happens to things that go missing!
For Beth's review, check out her blog  HERE.
Would I recommend it?
Yes!
Next up in Beth and Chrissi do Kid-Lit (July):
Maggot Moon-Sally Gardner