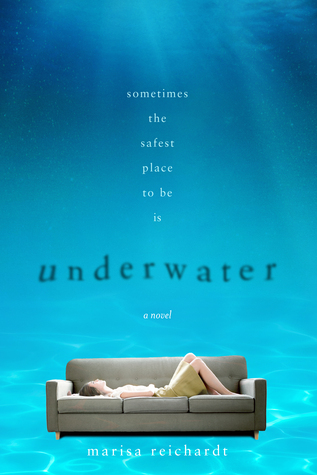 How did I get it?:
I bought it!
Synopsis:
Morgan didn't mean to do anything wrong that day. Actually, she meant to do something right. But her kind act inadvertently played a role in a deadly tragedy. In order to move on, Morgan must learn to forgive—first someone who did something that might be unforgivable, and then herself.
But Morgan can't move on. She can't even move beyond the front door of the apartment she shares with her mother and little brother. Morgan feels like she's underwater, unable to surface. Unable to see her friends. Unable to go to school.
When it seems Morgan can't hold her breath any longer, a new boy moves in next door. Evan reminds her of the salty ocean air and the rush she used to get from swimming. He might be just what she needs to help her reconnect with the world outside.
Thoughts:
I first heard about Underwater late last year and knew it was something that I wanted to read. I'm glad that I finally got around to reading it.
Underwater is a story about Morgan who is battling to overcome her fears. Morgan can't leave home and at first, we don't find out the reason why. This doesn't affect your enjoyment of the story as the reader gets to follow Morgan as she learns to overcome her fears. Morgan no longer goes to school (so she has to do her learning online) and she no longer socialises. Morgan has accepted this as her future, but then a boy named Evan moves next door and Morgan's outlook on life begins to change.
I thought this was a fantastic debut novel. Marisa Reichardt's writing makes it easy to turn the pages and devour the story. I have to admit that I was slightly worried when Evan came in. I didn't want this to become a story where the introduction of a boy made all the difference and made the character conquer their mental health issues. That's not real. Underwater takes the reader along the pathway to Morgan's recovery. It wasn't easy for her which I appreciated. It makes the story much more believable.
Would I recommend it?:
Of course!
A fantastic debut. Marisa Reichard writes beautifully!