This feature is going to showcase some recent reads that I haven't fully reviewed. This may be because I didn't finish the book or that I didn't have enough to say to warrant a full and fair review of a book that I'm sure others will absolutely adore. I figure this way the books will be highlighted and someone somewhere might find the right book for them!
(BOOK IMAGES GO TO GOODREADS!)
In The Dark, In The Woods-Eliza Wass
Synopsis:
Castella Cresswell and her five siblings—Hannan, Caspar, Mortimer, Delvive, and Jerusalem—know what it's like to be different. For years, their world has been confined to their ramshackle family home deep in the woods of upstate New York. They abide by the strict rule of God, whose messages come directly from their father.
Slowly, Castley and her siblings start to test the boundaries of the laws that bind them. But, at school, they're still the freaks they've always been to the outside world. Marked by their plain clothing. Unexplained bruising. Utter isolation from their classmates. That is, until Castley is forced to partner with the totally irritating, totally normal George Gray, who offers her a glimpse of a life filled with freedom and choice.
Castley's world rapidly expands beyond the woods she knows so well and the beliefs she once thought were the only truths. There is a future waiting for her if she can escape her father's grasp, but Castley refuses to leave her siblings behind. Just as she begins to form a plan, her father makes a chilling announcement: the Cresswells will soon return to their home in heaven. With time running out on all of their lives, Castley must expose the depth of her father's lies. The forest has buried the truth in darkness for far too long. Castley might be their last hope for salvation.
The Life and Death of Sophie Stark- Anna North
Synopsis:
"It's hard for me to talk about love. I think movies are the way I do that," says Sophie Stark, a visionary and unapologetic filmmaker. She uses stories from the lives of those around her—her obsession, her girlfriend, and her husband—to create movies that bring her critical recognition and acclaim. But as her career explodes, Sophie's unwavering dedication to her art leads to the shattering betrayal of the people she loves most.
Told in a chorus of voices belonging to those who knew her best, The Life and Death of Sophie Stark is an intimate portrait of an elusive woman whose monumental talent and relentless pursuit of truth reveal the cost of producing great art, both for the artist and for the people around her.
Skinny- Ibi Kaslik
Synopsis:
Do you ever get hungry? Too hungry to eat?
Holly's older sister, Giselle, is self-destructing. Haunted by her love-deprived relationship with her late father, this once strong role model and medical student, is gripped by anorexia. Holly, a track star, struggles to keep her own life in balance while coping with the mental and physical deterioration of her beloved sister. Together, they can feel themselves slipping and are holding on for dear life.
This honest look at the special bond between sisters is told from the perspective of both girls, as they alternate narrating each chapter. Gritty and often wryly funny, Skinny explores family relationships, love, pain, and the hunger for acceptance that drives all of us.
The Opposite of Loneliness- Marina Keegan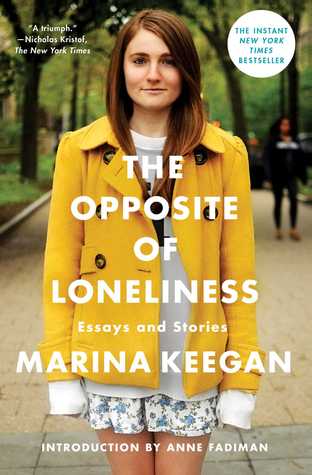 Synopsis:
Marina Keegan's star was on the rise when she graduated magna cum laude from Yale in May 2012. She had a play that was to be produced at the New York International Fringe Festival and a job waiting for her at the New Yorker. Tragically, five days after graduation, Marina died in a car crash.
As her family, friends, and classmates, deep in grief, joined to create a memorial service for Marina, her unforgettable last essay for the Yale Daily News, "The Opposite of Loneliness," went viral, receiving more than 1.4 million hits. She had struck a chord.
Even though she was just twenty-two when she died, Marina left behind a rich, expansive trove of prose that, like her title essay, captures the hope, uncertainty, and possibility of her generation. The Opposite of Loneliness is an assem­blage of Marina's essays and stories that, like The Last Lecture, articulates the universal struggle that all of us face as we figure out what we aspire to be and how we can harness our talents to make an impact on the world.
The Boy Book (Ruby Oliver #2)- E.Lockhart
Synopsis:
Here is how things stand at the beginning of newly-licensed driver Ruby Oliver's junior year at Tate Prep:
 • Kim: Not speaking. But far away in Tokyo.
 • Cricket: Not speaking.
 • Nora: Speaking–sort of. Chatted a couple times this summer when they bumped into each other outside of school–once shopping in the U District, and once in the Elliot Bay Bookstore. But she hadn't called Ruby, or anything.
 • Noel: Didn't care what anyone thinks.
 • Meghan: Didn't have any other friends.
 • Dr. Z: Speaking.
 • And Jackson. The big one. Not speaking.
But, by Winter Break, a new job, an unlikely but satisfying friend combo, additional entries to The Boy Book and many difficult decisions help Ruby to see that there is, indeed, life outside the Tate Universe.
Have you read any of these books? Let me know your thoughts! It's fun to discuss.