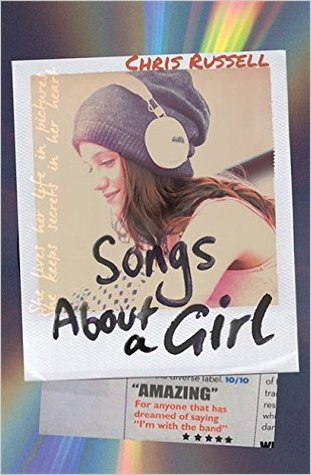 How did I get it?:
NetGalley, thanks to Hatchette Children's Books
Synopsis:
Charlie Bloom never wanted to be 'with the band'. She's happiest out of the spotlight, behind her camera, unseen and unnoticed. But when she's asked to take backstage photos for hot new boy band Fire&Lights, she can't pass up the chance.
Catapulted into a world of paparazzi and backstage bickering, Charlie soon becomes caught between gorgeous but damaged frontman, Gabriel West, and his boy-next-door bandmate Olly Samson. Then, as the boys' rivalry threatens to tear the band apart, Charlie stumbles upon a mind-blowing secret, hidden in the lyrics of their songs…
Thoughts:
I hadn't heard much about this book before I requested it, but the synopsis intrigued me, so I decided to give it a go. I'm so glad I did, because I thought it was a highly enjoyable read which I can imagine is going to appeal to a lot of readers and a lot of ages. If you're older than the intended audience (YA) then you'll find yourself feeling nostalgic for those boy band days!
Songs About A Girl centres around Charlie who is desperate to be a photographer. One day Charlie hears from Olly, a guy that used to go to her school. He is now in a boy band called Fire & Lights, everyone is obsessed with the band and Charlie can't believe that he's contacted her. Olly wants Charlie to come and take photos of the band backstage. Initially Charlie isn't so sure, but her best friend convinces her to take the opportunity.
The reader is then taken through what happens backstage with a famous boy band. Charlie finds out that fame isn't everything and there's a downside to all the attention. Charlie was never about the attention, just the photography, so her life becomes even harder when she is exposed by a fan blog. Also running through the story is a mystery that connects the band with Charlie's mother, who sadly past away. There's also romance and on the sad side some bullying and trolling.
This story felt incredibly current. It's exciting and easy to read. Chris Russell is a fantastic writer. I look forward to continuing Charlie's story with the rest of the series.
Would I recommend it?:
Of course!
A very accomplished debut. I'm looking forward to the rest of the series!