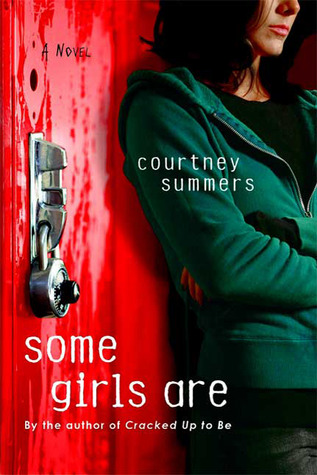 How did I get it?:
I bought it!
Previously reviewed by the same author:
Cracked Up To Be
All The Rage
Synopsis:
Climbing to the top of the social ladder is hard—falling from it is even harder.  Regina Afton used to be a member of the Fearsome Fivesome, an all-girl clique both feared and revered by the students at Hallowell High… until vicious rumors about her—and her best friend's boyfriend—start going around.  Now Regina's been frozen out, and her ex-best friends are out for revenge.  If Regina were guilty, it would be one thing, but the rumors are far from the terrifying truth, and the bullying is getting more intense by the day.  She takes solace in the company of Michael Hayden, a misfit with a tragic past whom she herself used to bully.  Friendship doesn't come easily for these onetime enemies, and as Regina works hard to make amends for her past, she realizes Michael could be more than just a friend…if threats from the Fearsome Foursome don't break them both first.
Tensions grow and the abuse worsens, as the final days of senior year march toward an explosive conclusion in this dark new tale from the author of Cracked Up To Be.
Thoughts:
I'm working my way through Courtney Summer's books, after I really enjoyed All The Rage and Cracked Up To Be. I didn't know what to expect from Some Girls Are. I knew it would be intense as I've come to expect from Courtney's books. Some Girls Are is NOT an easy read. It's incredibly tough to read and involves some extreme bullying and mean girl behaviour. I was surprised at how rough the bullying was. Courtney Summers really doesn't shy away from tough subjects and I really appreciate that.
Regina Afton is going to be a character that really divides readers. I had moments of liking her and moments of hating her! Liking her confused me, as she really isn't a nice character. Regina used to be part of a popular group of girls at her school. She was happy to rule the school with her friend Anna. Anna is the leader of the little gang of mean girls. Regina does some terrible things to others. She's blunt about what she's done.
All of the trouble starts when Regina is attacked at a party. One of the mean girls, Kara, encourages Regina not to tell the truth to Anna about what happened to her. Regina agrees but later finds out that Kara was lying. She's spread a vicious lie about Regina. Regina finds herself shunned by her friends and becomes an outcast. This is where some horrific bullying begins. Regina is not innocent. She's angry and gives as good as she gets. Her hate really comes through. I have to admit that the bullying was horrendously uncomfortable to read about. The group of girls really don't have any limits to how they will tear Regina down. There's physical fighting, vandalism, websites set up (don't you just love social media?!) and horrific rumours. They want Regina to suffer. Even though Regina is not a nice person and she doesn't exactly help herself, I felt for her as I wanted someone in her life, be it a teacher or a fellow student, to step in and help her. Yet at the same time I felt conflicted, because Regina isn't innocent. The only person that would really speak to Regina, is Michael, another social outcast at the school.  Regina hasn't been great to him in the past so their friendship is on very wobbly ground.
I have to admit that it is the characters that kept me glued to this book. I'm still thinking about it several days after reading it. The characters are so flawed, however Courtney begins to explain why throughout the story. Regina's story is interesting, if uncomfortable to follow. I wanted her to feel sorry for her previous actions, I wanted her attacker to be punished, I wanted the bullying to stop…it was all too much. At the same time, I couldn't get enough of it. It's an incredibly raw and difficult read but I think it's an important book to read.
Would I recommend it?:
Of course!
Not an easy book to read. The bullying is horrendous, the characters are flawed and it's full of so much hate. However, it is utterly compelling!