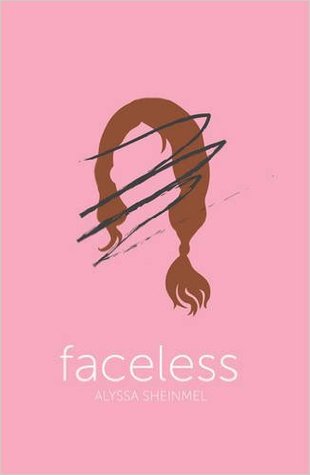 How did I get it?:
I bought it!
Synopsis:
When Maisie is struck by lightning, her face is partially destroyed. She's lucky enough to get a face transplant, but how do you live your life when you can't even recognize yourself anymore? She was a runner, a girlfriend, a good student …a normal girl. Now, after a single freak accident, all that has changed. As Maisie discovers how much her looks did and didn't shape her relationship to the world, she has to redefine her own identity, and figure out what 'lucky' really means.
Thoughts:
I first heard about Faceless through a Top Ten list. I knew I wanted to read it when I read the synopsis. It immediately pulled me in. It didn't take me long to read Faceless, if I had more time when reading it I probably could've read it in one sitting. It was engaging and fast-paced.
Faceless centres around Maisie who is in a terrible accident when out running one day. There was a storm and lightening struck a tree which made a branch fall down pulling some electrical wires down with it. Maisie wakes up in hospital several weeks later after being burnt by the electrical wires. Maisie's left side of her body has been damaged, but her face has taken the most damage. Her nose, her left cheek and a lot of her chin has been burnt away having been so badly damaged by the fire. Maisie is given the opportunity to have a face transplant. She doesn't take the decision lightly, as she is fully aware that she will have to be on anti-rejection drugs for the rest of her life. She knows she'll be more susceptible to other illnesses too. Maisie will live a life of physiotherapy, little exercise, countless medications and not being able to ever get pregnant… the face transplant is certainly not an easy choice.
Maisie decides to have the face transplant and quickly finds out that she no longer feels like herself. She feels like she's crafting Maisie Version 2.0. Her boyfriend and her friends are treating her differently. Maisie doesn't always make the right choices throughout the story- I don't think you can blame her. She's certainly been dealt a rough hand. However, Maisie decides to choose life. She becomes stronger as the book progresses. She deals with staring, snide comments, people's judgments and knowing her boyfriend Chirag really doesn't want to be with her anymore but is too 'nice' to break up with her.
Faceless isn't a perfect read but it's a decent one. I think it's fantastic that there's a story about face transplants out there and that it's realistic about Maisie's feelings after her accident. Maisie isn't accepting straight away and that to me, was incredibly realistic. Faceless isn't just about Maisie's accident. It's about learning to accept who you are and learning to love yourself no matter what life throws at you.
Would I recommend it?:
Yes! 3.5 stars
A realistic YA read. Worth a go!