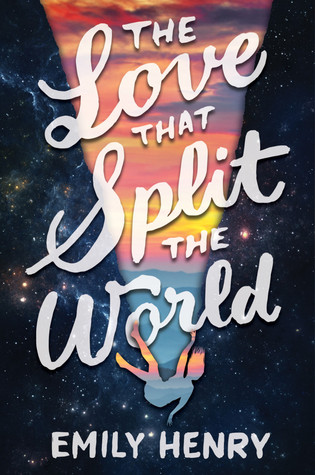 How did I get it?:
I bought it!
Synopsis:
Natalie Cleary must risk her future and leap blindly into a vast unknown for the chance to build a new world with the boy she loves.
Natalie's last summer in her small Kentucky hometown is off to a magical start… until she starts seeing the "wrong things." They're just momentary glimpses at first—her front door is red instead of its usual green, there's a pre-school where the garden store should be. But then her whole town disappears for hours, fading away into rolling hills and grazing buffalo, and Nat knows something isn't right.
That's when she gets a visit from the kind but mysterious apparition she calls "Grandmother," who tells her: "You have three months to save him." The next night, under the stadium lights of the high school football field, she meets a beautiful boy named Beau, and it's as if time just stops and nothing exists. Nothing, except Natalie and Beau.
Thoughts:
I remember being so excited about this book when it first came out and then I started to see a lot of mixed reviews. I tried not to read any as I like to give a book a fair chance. However, seeing a few mixed reviews put me off reading this book. I'm glad I decided to pick it up though as I thought it was a really decent read and I'm intrigued to see what Emily Henry writes in the future. I thought this was a great debut!
The Love That Split The World centres around Natalie. Natalie, we find out is adopted by a loving family. During the summer after graduating from high school, Natalie begins to have some very strange experiences. She is visited by 'Grandmother' who she believes is God and who her parents believe is a hallucination. Grandmother tells Natalie that she only has a few months to save 'him' and then disappears without a trace. Natalie doesn't know who 'he' is. Admist that confusion, Natalie experiences some more strange goings on. Buildings change, the environment around her changes and buildings disappear. Then, there's Beau, someone that she's never come across in her life, even though she lives in a small town where everyone knows everyone. Natalie spends some time with Beau and really gets to know him over the summer. She also spends time trying to unravel the mystery that's going on in her life alongside some help from a psychologist.
It's really hard to describe this book because it's so many things. It's romance, it's time-travel, it's mystery and magical realism. I found the writing to be utterly beautiful and compelling. It didn't take me long to read at all. Yet, a few days after finishing this book I'm starting to see its flaws when I think about it. I think the major flaw that prevented me from rating this book any higher was the instalove. The relationship was cute, sure, but it happened so quickly.
Instalove aside, I really enjoyed reading this book. Much more than I had anticipated. It won't be for everyone. It's not perfect, but in my opinion, it's a good reading experience and a very promising debut!
Would I recommend it?:
Of course!
A very unique debut! I thoroughly enjoyed it.