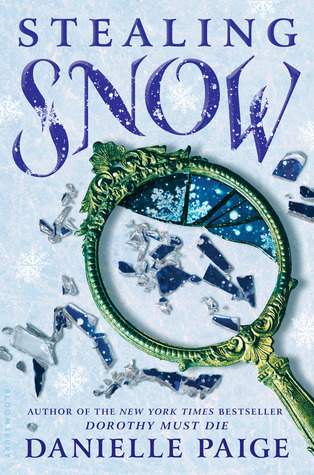 How did I get it?:
I received a copy, unsolicited from the publisher.
Previously reviewed by the same author:
Dorothy Must Die
Synopsis:
First kisses sometimes wake slumbering princesses, undo spells, and spark happily ever afters.
Mine broke Bale.
Seventeen-year-old Snow has spent her life locked in Whittaker Psychiatric—but she isn't crazy. And that's not the worst of it. Her very first kiss proves anything but innocent…when Bale, her only love, turns violent.
Despite Snow knowing that Bale would never truly hurt her, he is taken away—dashing her last hope for any sort of future in the mental ward she calls home. With nowhere else to turn, Snow finds herself drawn to a strange new orderly who whispers secrets in the night about a mysterious past and a kingdom that's hers for the taking—if only she can find her way past the iron gates to the Tree that has been haunting her dreams.
Beyond the Tree lies Algid, a land far away from the real world, frozen by a ruthless king. And there too await the River Witch, a village boy named Kai, the charming thief Jagger, and a prophecy that Snow will save them all.
Thoughts:
When I added this book to Goodreads, I noticed its low rating and have to admit, I went into the book with low expectations. I wasn't a big fan of Dorothy Must Die. I thought it was okay, but it didn't blow me away like I wanted it to. However, I did enjoy reading Stealing Snow. I'm pleased it was sent to me, as I don't think I would have considered it after being slightly underwhelmed by the slower elements of Dorothy Must Die. 
Stealing Snow centres around Snow who has spent a huge part of her life in a psychiatric home named Whittaker. She is treated as if she is crazy and is on a cocktail of medication. Snow has a developing relationship with Bale, but during their first kiss, Bale hurt Snow and hasn't talked since. Snow knows that Bale would never intend to hurt her, but before she can sort things through Bale is taken away. Snow manages to leave the psychiatric home and finds herself drawn into a strange world which is far from the real world. Snow learns things about herself that she would have never expected. There's witchcraft and a prophecy, as Snow begins her quest to find Bale.
I do have mixed feelings about this book, so I can certainly see where some of the low ratings are coming from. I thought it was so intriguing to begin with. I really liked the fact that it was set in a psychiatric ward. It was unique. I did really enjoy the magical element of this story and think that this was one of the most powerful elements. I didn't feel like the story was as fleshed out as it could be and I would have loved to have known more background on Snow. I don't feel like I connected with her right from the start. She wasn't a bad character, there just wasn't much about her, in my opinion.
I'm a massive fairy tale retelling/imagining fan and whilst this book isn't perfect, I think it's worth giving a go to see if you can connect with it.
Would I recommend it?:
Yes!
Not the strongest reimagining out there, but a decent world to explore nonetheless!