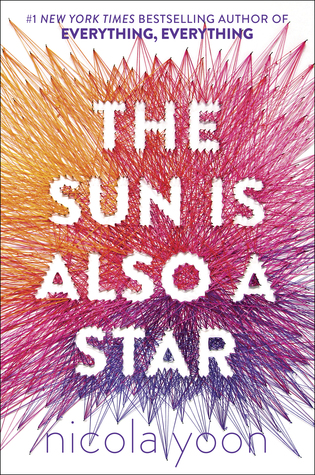 How did I get it?:
NetGalley- thanks to Penguin Random House
Previously reviewed by the same author:
Everything, Everything
Synopsis:
Natasha: I'm a girl who believes in science and facts. Not fate. Not destiny. Or dreams that will never come true. I'm definitely not the kind of girl who meets a cute boy on a crowded New York City street and falls in love with him. Not when my family is twelve hours away from being deported to Jamaica. Falling in love with him won't be my story.
Daniel: I've always been the good son, the good student, living up to my parents' high expectations. Never the poet. Or the dreamer. But when I see her, I forget about all that. Something about Natasha makes me think that fate has something much more extraordinary in store—for both of us.
The Universe: Every moment in our lives has brought us to this single moment. A million futures lie before us. Which one will come true?
Thoughts:
After unexpectedly loving Everything, Everything I was intrigued to read The Sun Is Also A Star. I felt like this book is completely different to Nicola Yoon's debut. Different in a good way though. A very good way. I have to admit that it took me a little longer to get into this book, but as soon as I was into it, I couldn't put it down!
It centres around Natasha and Daniel and is told in alternate point of views. Natasha is really into science and Daniel is into the arts. Both characters are going through a tough time and having trouble with their families. Natasha and her family are about to be deported from America and Daniel is facing an interview for recommendation at Yale. A school his parents want him to go to, but he's not convinced. His dream is to be a poet. After a chance encounter (or is it fate?) Natasha and Daniel collide. They spend a day together, with Daniel convinced he can make Natasha fall in love with him.
I liked both Natasha and Daniel. They were fantastic characters who I loved reading about. Daniel was both cute and cheesy at the same time and I loved his interactions with Natasha. Even though they only spend one day together, it is easy to see why they are drawn to each other. They seem so different, but the reader really does believe that they have a connection. I'm not a big fan of the instalove, but with this book it seemed to work.
This story does stray to other characters describing their part in the story. Whilst it was interesting, I did want to know more about Natasha and Daniel. I did like how it connected to Natasha and Daniel's story though, so it's only a minor niggle for me. I'm pretty sure many others will adore this part of the story.
I feel with this book, Nicola Yoon has cemented herself as a solid writer in the YA fiction genre. I thoroughly enjoyed reading The Sun Is Also A Star and highly recommend it, especially if you enjoyed Nicola's debut!
Would I recommend it?:
Of course!
A brilliant second book from the talented Nicola Yoon!