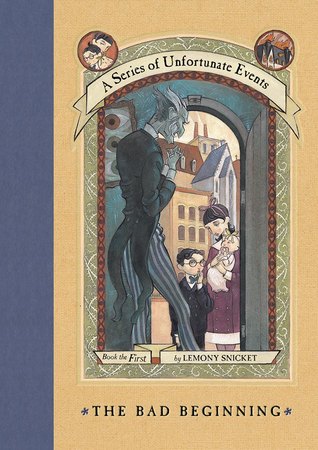 How did I get it?:
I borrowed it from Beth!
Synopsis:
Dear Reader,
I'm sorry to say that the book you are holding in your hands is extremely unpleasant. It tells an unhappy tale about three very unlucky children. Even though they are charming and clever, the Baudelaire siblings lead lives filled with misery and woe. From the very first page of this book when the children are at the beach and receive terrible news, continuing on through the entire story, disaster lurks at their heels. One might say they are magnets for misfortune.
In this short book alone, the three youngsters encounter a greedy and repulsive villain, itchy clothing, a disastrous fire, a plot to steal their fortune, and cold porridge for breakfast.
It is my sad duty to write down these unpleasant tales, but there is nothing stopping you from putting this book down at once and reading something happy, if you prefer that sort of thing.
With all due respect,
Lemony Snicket
Thoughts:
I am one of those who hadn't read The Series of Unfortunate Events as a child. I know, I know. I don't know what I was thinking! 😉 However, the wonderful thing about the Beth and Chrissi do Kid-Lit Challenge is that I get the opportunity to rediscover books I should have read when I was younger. I really enjoyed this book even though there were some parts that did grate on me after a while. I liked how dark it was. I personally don't see why middle grade/children's fiction can't be dark!
It centres around the Baudelaire siblings who have had an awful few days. They go through something tragic and then things go from bad to worse! I really didn't think it could get any worse for them…but I'm pretty sure it will continue to be not all sweetness and light considering the name of the series. The siblings are so strong and brave. I really enjoyed their characters and immediately liked them. They weren't whiny. I can't stand whiny children. I particularly liked Violet. I thought she was a strong and highly likeable character.
I liked how short the story was and I thought it was well paced. I think it will capture the attention of children and adults alike. The writing style is simple but really descriptive and evocative. I have to say that the only thing that really irritated me with the story is when the narrative seemed to halt for a moment to explain or provide a definition for a word or a saying. I thought it was sweet at first, but then it got a little too repetitive for my liking and I felt that it disrupted the flow of the story.
That aside, I do think this series is well worth exploring and I think we'll probably pop the next book in the series on our list for next year.
For Beth's wonderful review, please check out her blog HERE
Would I recommend it?:
Yes! 3.5 stars
Reading next for the Beth and Chrissi do Kid-Lit challenge (December):
The Boy Who Sailed The Ocean In An Armchair- Lara Williamson