Top Ten Tuesday is hosted by the wonderful The Broke and The Bookish. For this week's list we're listing our favourite new to us authors that we've read this year. I've discovered some gems this year but I have to admit, I have returned to old faithfuls more. I must get better!
Courtney Summers-
I started with All The Rage and have since caught up on all things Courtney Summers. I think she's such a powerful, edgy author.
Keith Stuart-
I really enjoyed Keith's debut novel A Boy Made of Blocks which was about an autistic boy and his family. Heartwarming.
Carrie Hope Fletcher-
I've known about Carrie for years, so was happy to read her debut novel On The Other Side.
John Corey Whaley-
Highly Illogical Behaviour blew my mind.
Lauren James-
I didn't expect to like The Next Together as much as I did!
Francesca Zappia-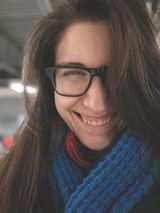 Made You Up was one of my favourites of the year!
Katie Alender-
I have thoroughly enjoyed Katie's creepy series Bad Girls Don't Die.
Holly Bourne-
Am I Normal Yet? is one of my favourite YA books of the year!
Jenny Lawson-
I really enjoyed Furiously Happy. It was different to read about anxiety and depression in this way.
C.J. Flood-
Infinite Sky was a stunning read!
Which authors have you discovered this year? Feel free to leave a link to your post and I'll stop by!