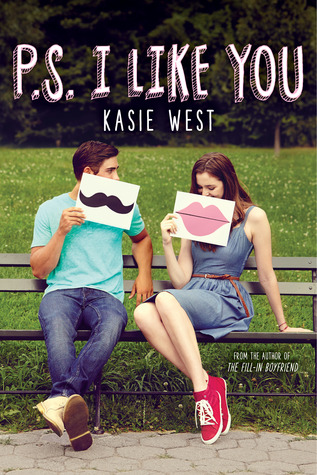 How did I get it?:
I bought it!
Previously reviewed by the same author:
Synopsis:
Signed, sealed, delivered…
While spacing out in chemistry class, Lily scribbles some of her favorite song lyrics onto her desk. The next day, she finds that someone has continued the lyrics on the desk and added a message to her. Intrigue!
Soon, Lily and her anonymous pen pal are exchanging full-on letters—sharing secrets, recommending bands, and opening up to each other. Lily realizes she's kind of falling for this letter writer. Only, who is he? As Lily attempts to unravel the mystery and juggle school, friends, crushes, and her crazy family, she discovers that matters of the heart can't always be spelled out…  
Thoughts:
Kasie West is one of those writers that I know that I'm always going to enjoy her books. Sure, they may not be the deepest read, but there are some wonderful moments within the pages of her books and it's not all sweetness and light. Quite often Kasie's books feature some family/friend issues that feel real and some situations are ones that many readers will identify with. I was excited to read P.S. I Like You, as I knew that it'd be a decent read. Whilst it's not my favourite book that Kasie has written, I still found it to be highly enjoyable. It didn't take me long to read at all.
P.S. I Like You centres around Lily, who is scribbling on a desk one day in Chemistry class. She strikes up a conversation with an anonymous writer which leads to them exchanging full on letters. They get to know each other through the letters that are stored underneath the desk. Lily and her pen pal talk about everything and really begin to open up to one another. Lily soon realises she's falling for the letter writer and is desperate to find out who he is. When Lily finds out who it is, she can't believe it…
I think one of the reasons why I didn't enjoy this book as much was because it had some really stereotypical YA moments within it. It didn't stand out as much as I would've liked and I'm afraid to see that it wasn't a memorable read for me. The characters were similar to many more in YA and the storyline was a little predictable. I would've liked an element of mystery and it to be more of a guessing game to find out the mystery writer, but I had it called from early on in the book.
That said, I really did enjoy P.S. I Like You. It was easy to read and certainly brought a smile to my face.
Would I recommend it?:
Yes! 3.5 stars
Whilst this book wasn't my favourite by Kasie West, it is still super cute and well worth reading if you're into contemporary YA!