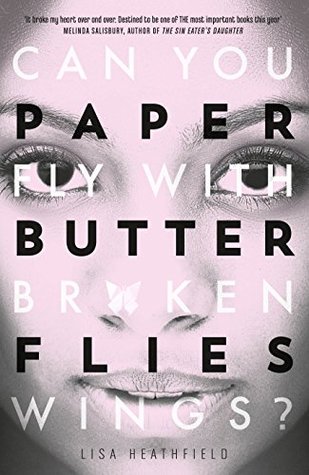 How did I get it?:
I bought it!
Synopsis:
June's life at home with her stepmother and stepsister is a dark one – and a secret one. She is trapped like a butterfly in a net.
But then June meets Blister, a boy in the woods. In him she recognises the tiniest glimmer of hope that perhaps she can find a way to fly far, far away from her home and be free. Because every creature in this world deserves their freedom . . . But at what price?
Thoughts:
I had heard about this book from so many people either book bloggers or fellow teachers. Yes, this was a book that a lot of the teaching community have read and gone on to recommend. I can totally see why, although I would warn that it is an incredibly tough book to read. It's not easy to read at all, yet something about it completely pulls you in and you don't want to put it down, despite it being incredibly heart-breaking. I didn't want to put it down, no matter how traumatic the reading experience was.
The story centres around June, who is a girl of mixed race who lives with a white family after the death of her mother and her father's second marriage. June has to put up with an absolutely awful stepmother. She endures mental and physical abuse at the hands of her stepfamily. It did really feel like the classic evil stepfamily but completely intensified. It was incredibly shocking and harrowing, but the writing just made you keep on reading. As a reader, I wanted to know what was going to happen to June and whether she would get a happy ending.
We read about the abuse she suffered through June's tales of her life and as an adult, her struggle to cope and move on from the abuse she has suffered. What I really enjoyed about this book was that it was told through the eyes of June. The eyes of the abused, not the adult June's perspective, but from the perspective of June whilst such terrible things were happening to her.
There were light moments throughout when we experienced June's relationship with Bliss. It made me want to have more moments of June's happiness. I wanted everything to turn out well for her but then the story took an unexpected twist towards the end. I certainly didn't see it coming and found it engrossed me even more than before.
This book is special. I know that it will stay with me for a long time.
Would I recommend it?:
Without a doubt!
An incredible, heart-breaking book that I simply couldn't put down!