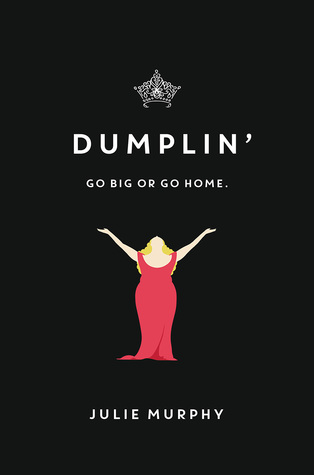 How did I get it?:
I bought it!
Previously reviewed by the same author:
Side Effects May Vary
Synopsis:
Self-proclaimed fat girl Willowdean Dickson (dubbed "Dumplin'" by her former beauty queen mom) has always been at home in her own skin. Her thoughts on having the ultimate bikini body? Put a bikini on your body. With her all-American beauty best friend, Ellen, by her side, things have always worked…until Will takes a job at Harpy's, the local fast-food joint. There she meets Private School Bo, a hot former jock. Will isn't surprised to find herself attracted to Bo. But she is surprised when he seems to like her back.
Instead of finding new heights of self-assurance in her relationship with Bo, Will starts to doubt herself. So she sets out to take back her confidence by doing the most horrifying thing she can imagine: entering the Miss Clover City beauty pageant—along with several other unlikely candidates—to show the world that she deserves to be up there as much as any twiggy girl does. Along the way, she'll shock the hell out of Clover City—and maybe herself most of all.
Thoughts:
I do like contemporary reads, but for some reason Dumplin' didn't really make much of a mark with me. It was an okay read, but I finished reading it feeling a little underwhelmed. I didn't connect to the main character of Willowdean as much as I would have liked to. Dumplin' did carry an important message with it, so I wouldn't outrightly dismiss it, if you are interested in reading it. It certainly does have its good points which I'll come to discuss.
It centres around Willowdean and her quest to build her confidence by entering a beauty pagent that her mother runs.
I loved how our main character Willowdean,  'Dumplin' was unapologetically fat. She didn't take it as an insult, she just completely embraced it. She was well aware that people were judging her- but she really didn't care. She was going to live her life just as she wanted to despite other people's perceptions of her. I really enjoyed that message of the book. I love female characters that aren't ashamed to be who they want to be. It's a very positive book around body image and I definitely think that we need more of those. I also really enjoyed how Willowdean wasn't perfect herself. She judged others even though she did get annoyed with herself when she did so.
There were some interesting relationships in this book and I enjoyed exploring them. I wasn't really convinced of the relationship between Willowdean and Bo. It felt a little contrived for me. The pace of this story is a little slow for me. It didn't have me racing through the book or turning the pages eagerly. I very much enjoyed the message of the book and I'm glad it exists, but I don't think it's one that will stay with me for a long time.
Would I recommend it?:
It's not for me!- 2.5 stars- This book was okay, but it's not something that I would highly recommend.
A very body-positive book!