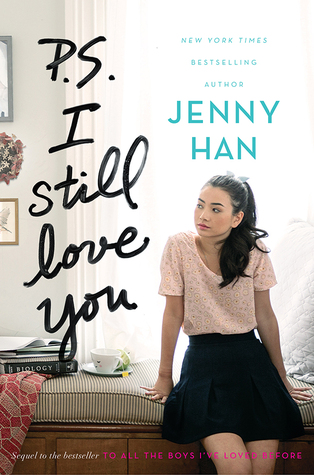 How did I get it?:
I bought it!
Previously reviewed by the same author:
The Summer I Turned Pretty
It's Not Summer Without You
We'll Always Have Summer
Burn For Burn
Fire With Fire
Ashes to Ashes
Synopsis:
Lara Jean didn't expect to really fall for Peter.
She and Peter were just pretending. Except suddenly they weren't. Now Lara Jean is more confused than ever.
When another boy from her past returns to her life, Lara Jean's feelings for him return too. Can a girl be in love with two boys at once?
In this charming and heartfelt sequel to the New York Times bestseller To All the Boys I've Loved Before, we see first love through the eyes of the unforgettable Lara Jean. Love is never easy, but maybe that's part of what makes it so amazing.
Thoughts:
I have to admit that I struggled a little bit with the first book in this series. I mean, I like Jenny Han's writing and I adored The Summer I Turned Pretty and Burn For Burn. I just didn't quite get the love for her new series. It's enjoyable enough sure, and is a decent YA read, but I didn't get the adoration that most of the YA reading blogosphere did. However, I wanted to give this book a go because it is Jenny Han and she is a brilliant writer. This book didn't take me long to read at all, but I wasn't overly impressed- there was far too much relationship drama for my liking.
I guess I was expecting a bit of a cute romance with this book but in the next instalment, Lara Jean encounters another boy that comes back into her life. Lara Jean's feelings for the boy from the past start to develop and she finds herself wondering if she can be in love with two boys at once. To me, this book felt like the younger end of young adult, especially with some of the silliness involved. The plot seemed a little too ridiculous at times. There didn't seem to be much of a plot and the story didn't seem to gel well in my opinion.
I was a little disappointed with some of the character development. Peter didn't quite turn out how I wanted him to either which was a shame. There's something about it that kept me reading though. Jenny Han's writing is addictive and I can imagine that many readers are going to lap up this book. It is certainly fun and light to read and doesn't take much time to read at all. It has some fun moments and some really witty writing.
Would I recommend it?:
Yes!
Whilst I wasn't overly impressed with this sequel, I know fans of Jenny Han and contemporary YA will enjoy it!