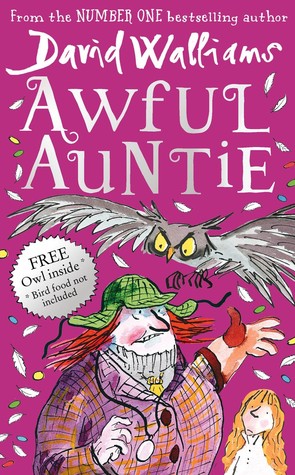 How did I get it?:
I borrowed it from Beth!
Previously reviewed by the same author:
Gangsta Granny
The Boy In The Dress
Synopsis:
From larger than life, tiddlywinks obsessed Awful Aunt Alberta to her pet owl, Wagner – this is an adventure with a difference. Aunt Alberta is on a mission to cheat the young Lady Stella Saxby out of her inheritance – Saxby Hall. But with mischievous and irrepressible Soot, the cockney ghost of a chimney sweep, alongside her Stella is determined to fight back… And sometimes a special friend, however different, is all you need to win through.
Thoughts:
As many regular readers of my blog know, I'm a primary school teacher, so I really enjoy this kid-lit challenge, because it helps me find new material for my class. With my class (which reminds me, I must sort some reviews!) we've read The World's Worst Children and Billionaire Boy, we're currently reading Gangsta Granny, so you might say in one way or another I'm making my way through David's books.
David Walliams does come into some criticism in the teaching world, because his books aren't technically brilliant and can be a little samey. However, those complaints don't come from me. I absolutely adore his books. They make my class smile, laugh out loud and read more of his books. If any author can encourage children to read (no matter who they are) I'm a very happy teacher.
This book is actually quite dark! It involves an awful auntie determined to get the deeds to Saxby Hall. To get this, she has carried out something terrible and she's determined to get her niece Lady Stella Saxby to sign over the deeds. Alongside a cockney ghost named Soot, Stella refuses to back down and fights back against her auntie.
I absolutely loved the characters in this book. Stella was a great heroine! She was clever, brave and determined to keep what was hers. Aunt Alberta was Trunchbull-esque in her manner. She really was an awful auntie. She was pure evil and I love characters like that. I also enjoyed the characters of Gibbon and Soot.
I don't know whether this would be too dark for some younger children. There's death, car crashes, murder, poison, torture… I know we can't protect children from everything but I don't know if some of it was too much. I feel some of David's other books were more heart-warming than this one. However, I don't think that should put you off. Awful Auntie's themes might go over the heads of many young children. I'd just approach it with caution if you have sensitive children.
For Beth's wonderful review, check out her blog HERE.
Would I recommend it?:
Of course!
Reading next in the Beth and Chrissi Do Kid-Lit Challenge (April):
A Snicker of Magic- Natalie Lloyd