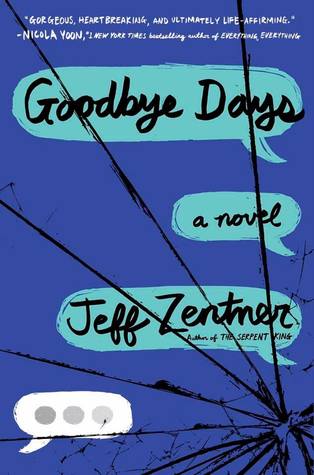 How did I get it?:
NetGalley, thanks to Penguin Random House
Synopsis:
What if you could spend one last day with someone you lost?
One day Carver Briggs had it all—three best friends, a supportive family, and a reputation as a talented writer at his high school, Nashville Academy for the Arts.
The next day he lost it all when he sent a simple text to his friend Mars, right before Mars, Eli, and Blake were killed in a car crash.
Now Carver can't stop blaming himself for the accident, and he's not the only one. Eli's twin sister is trying to freeze him out of school with her death-ray stare. And Mars's father, a powerful judge, is pressuring the district attorney to open a criminal investigation into Carver's actions.
Luckily, Carver has some unexpected allies: Eli's girlfriend, the only person to stand by him at school; Dr. Mendez, his new therapist; and Blake's grandmother, who asks Carver to spend a Goodbye Day with her to share their memories and say a proper goodbye to his friend.
Soon the other families are asking for a Goodbye Day with Carver, but he's unsure of their motives. Will they all be able to make peace with their losses, or will these Goodbye Days bring Carver one step closer to a complete breakdown or—even worse—prison?
Thoughts:
I have heard so much about this author's debut, but I haven't had the chance to check it out yet. After reading Goodbye Days it's certainly an author that I want to explore more from. Goodbye Days isn't an easy read, after all its story line centres around grief. It's a book that will appeal to so many readers.
Goodbye Days centres around Carver Briggs who sent a text to his best friend Mars whilst they were together with two more of his friends. Whilst replying to the text, the car that Mars was driving crashed into a truck, killing all of the passengers. In one moment, Carter lost his three best friends. He blames himself for the accident.Carver feels alone now and dreads going to school without his little crew. Not everyone in the community is kind to Carver. Family members find it very hard to forgive Carver. Mars' father, who is a judge, pressures the district attorney to investigate the case. He wants Carver to be charged with negligence. Carver's life is incredibly overwhelming and he begins to suffer from panic attacks.
What I loved about this book, was that Carver wasn't left to come to terms with everything himself. He had an amazingly supportive sister, his friend's girlfriend Jesmyn and a therapist. It was nice to know that Carver had some people looking out for him at such a terrible time.
The idea of Goodbye Days came from a grandparent who asked Carver to spend a day with her doing the things that her grandson loved so much. I thought this was a fascinating idea and although it was heart-breaking, it was interesting to learn more about Carver's beloved friends.
This book is incredibly emotional. It's so well written and easy to dive into, despite its tough subject matter. I loved that the story was about such a strong friendship. It's also about learning to move on and accept loss. It really was a brilliant read.
Would I recommend it?:
Of course!
An emotional rollercoaster! So worth reading.