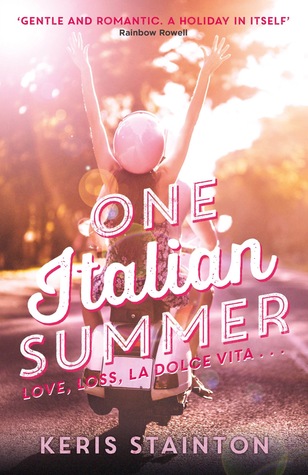 How did I get it?:
NetGalley- thanks to Hot Key Books
Previously reviewed by the same author:
Synopsis:
It's been a year since Milly, Elyse and Leonie's dad died, and a year since their last trip to Rome. Summer's here again, and once again they are heading with their mum to Italy – but what's it going to be like going without Dad? Rome still holds its familiar charms – the sun is still as warm, the gelato as delicious, the people as welcoming. But nothing is quite as it once was …
With grief still raw for all of them, Milly is facing the additional awfulness of having to see Luke again – gorgeous, gorgeous Luke, who she had a fling with last year, and who she made a total fool of herself with – or so she thinks. What's going to happen this time? What's more, things between Milly, her sisters and their mum are rocky – Leonie is being tempestuous and unpredictable, Elyse is caught up with her new boyfriend, and Milly feels like she just doesn't know how she fits in any more.
Over one Italian summer, can Milly find a way back to the life she once had?
Thoughts:
I thought this book was going to be a really cute, fluffy contemporary. The cute part was right, there are some incredibly cute moments in Keris Stainton's One Italian Summer, however, it has depth to it that I certainly wasn't expecting. It didn't take me long to devour this book and I will certainly be recommending it as a summer beach read. I was transported to Italy and loved following this dear family who had been through so much.
It centres around three sisters who have recently lost their father. Everything is still raw for them, especially the thought of going back to Italy, where their father used to work and they often visited for family holidays. They have to return for a family wedding, but everything is of course, different.  It being a contemporary YA book, there's also romance involved!
I really enjoyed the characters in this book, especially the sisters. I really enjoyed Milly. I loved how fiercely loyal she was to her sisters and her mother. She was honest about her grief and things didn't just get easier for her once on holiday. Sure, she had some fun and distractions, but her dad was constantly in her thoughts which I thought was believable. The romance between her and Luke wasn't vital to the story, but it certainly had its cute moments. I love reading books about sisters, especially when the author captures the true sister relationship. They ripped into each other as much as they loved each other which was so realistic!
I would've loved to have read some more descriptions and adventures between the sisters in Italy, but that is me being particularly nit-picky. As a whole, I thought the story was a fun, yet touching read about a family reconnecting after an unexpected and heart-breaking loss.
Would I recommend it?:
Of course!- especially if you're into contemporary YA!
A touching read- perfect for summer!