Top Ten Tuesday is hosted by the wonderful The Broke and The Bookish. This week's list are the Top Ten Books from any given genre that we've recently added to our TBR list. I was going to go with contemporary, but then I realised it would be a similar list to last weeks! So I've decided to go with thrillers. If you're a regular reader of my blog, you'll know I do love a good thriller as well.
Click on the book image to get to Goodreads!
Dark Places- Gillian Flynn
Another one I've been trying to get to for ages, but other books keep getting in the way! I must read it soon…
Gone Without A Trace- Mary Torjussen
Another recommendation from my sister! She says this book is great and I trust her judgment!
Her Husband's Lover- Julia Crouch
I adore Julia Crouch's thrillers, so I'm excited about this one! Thanks to Beth (again, my sister!) for the copy!
The Trophy Child- Paula Daly
Another writer I adore…
He Said, She Said- Erin Kelly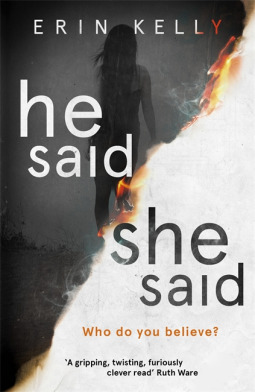 I have heard SO much about this book. My sister kindly gave me her copy to read, so I'm hoping to get to it soon!
The Sisters- Claire Douglas
I've had this book on my radar for a while now. I can't believe I haven't read it yet!
The Good Mother- Amy Bird
I'm always sold on a book that mentions its a psychological thriller!
The Step Mother- Claire Seeber
Lots of bloggers that I trust have enjoyed this book! I must read it!
The Sister- Louise Jensen
More trusted bloggers have loved this one too!
When She Was Bad- Tammy Cohen
Ooooh, the synopsis of this book made me immediately add it to my TBR!
What books have you recently added to your TBR? Feel free to leave a link to your posts and I'll stop by!