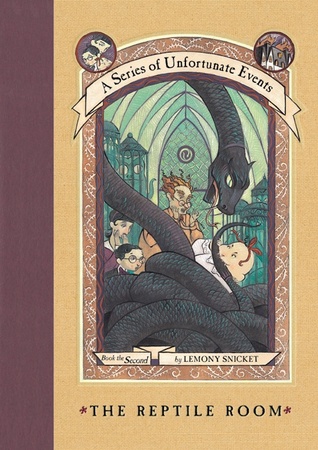 How did I get it?:
I bought it!
Previously reviewed by the same author:
The Bad Beginning
Synopsis:
Dear Reader,
If you have picked up this book with the hope of finding a simple and cheery tale, I'm afraid you have picked up the wrong book altogether. The story may seem cheery at first, when the Baudelaire children spend time in the company of some interesting reptiles and a giddy uncle, but don't be fooled. If you know anything at all about the unlucky Baudelaire children, you already know that even pleasant events lead down the same road to misery.
In fact, within the pages you now hold in your hands, the three siblings endure a car accident, a terrible odor, a deadly serpent, a long knife, a large brass reading lamp, and the appearance of a person they'd hoped never to see again.
I am bound to record these tragic events, but you are free to put this book back on the shelf and seek something lighter.
With all due respect,
Lemony Snicket
Thoughts:
I enjoyed the first book in the series, which was much darker than I had anticipated. I was looking forward to reading the next book. So many people rave about this series! I can see why. It's a short read and it's engaging at the same time. Reading it as an adult, some things about it frustrate me, however, I know I'd have loved it when I was younger.
In The Reptile Room we catch up with the Baudelaire children. They have been moved away from Count Olaf who we know is completely crazy. They're now staying with a very distant relative who is obsessed with reptiles. He even has a reptile room. Just as the narrator reminds you, something awful will happen to the children… and it does!
I'm really enjoying this series. I'm hooked by the story and want to know what's going to happen to the children. I've certainly been trapped by the story even if a lot of it frustrates me.
As an adult, I get frustrated with the lack of communication and support the children are receiving. I realise that's me thinking from an adult perspective, but I can't help being annoyed by it! As with the first book, I'm not completely sold on the constant defining of words. I understand why the narration is like this, but it still grates on me.
Despite my reservations, I'd still highly recommend this series as there's so much to enjoy! It's engaging, fast-paced and so easy to read.
For Beth's wonderful review, please check out her blog HERE.
Would I recommend it?:
Yes! 3.5 stars
Next up in the Beth and Chrissi Do Kid-Lit Challenge (August):
Fortunately, The Milk- Neil Gaiman