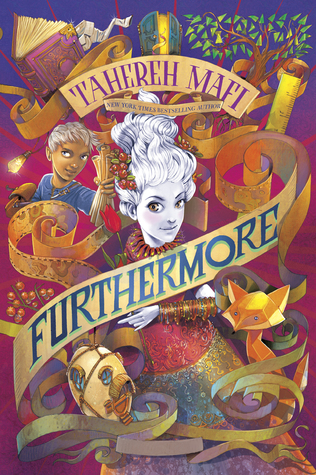 How did I get it?:
It was a gift from Beth!
Previously reviewed by the same author:
Synopsis:
Alice Alexis Queensmeadow 12 rates three things most important: Mother, who wouldn't miss her; magic and color, which seem to elude her; and Father, who always loved her. Father disappeared from Ferenwood with only a ruler, almost three years ago. But she will have to travel through the mythical, dangerous land of Furthermore, where down can be up, paper is alive, and left can be both right and very, very wrong. Her only companion is Oliver whose own magic is based in lies and deceit. Alice must first find herself—and hold fast to the magic of love in the face of loss
Thoughts:
I was bought this book at Christmas, by my sister and fellow book blogger, Beth. I was really excited to read it, but somehow took over 6 months to get to it. Pesky TBRs… I was super excited to read Furthermore. It looked different to the Shatter Me series and it really was. Furthermore is such a captivating, unique story and I'm thrilled that I read it.
Furthermore centres around Alice who lives in Ferenwood. In Ferenwood it is incredibly colourful and magical. Alice is different to the rest though. She lacks pigmentation so she stands out in her community. However, this isn't the only thing wrong with Alice's life. She's lonely, her father has disappeared and the Surrender ceremony that happens in Ferenwood is looming. Alice's life is about to get a whole lot more daring…
I absolutely love Tahereh Mafi's writing. I know that some readers find her writing quite 'flowery' and descriptive, but I think it's beautiful. I'm always captivated by her words and the worlds that she creates. Ferenwood is an enchanting but unusual world. I could picture it as I was reading. I'm a big fan of fairy tales, so this magical middle grade read really did tick a lot of boxes for me. I adored the magic. I thought there was a good pace to the story and a great deal of action amongst the weirdness. I can see that it would captivate many readers both younger, into YA and beyond.
As for the characters… I bloomin' love them. Alice is so unique but lovable. I loved her sassiness. Goodness knows, I love a sassy character. Oliver took a while for me to warm to, but I enjoyed his character in the end.

I think this book will appeal to a wider age range than middle grade. There's adventure, fantasy and sass. Surely many people would enjoy that?
Would I recommend it?:
Of course! 4.5 stars
I was worried that I'd hyped this book, but I didn't… I was captivated right from the start!