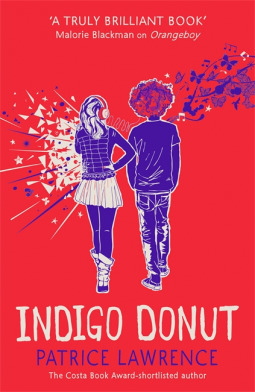 How did I get it?:
NetGalley- thanks to Hatchette!
Previously reviewed by the same author:
Orangeboy
Synopsis:
A story of longing, belonging and trust. Two very different young people discover who loves them, and who they can love back.
Bailey is 17, mixed race, lives with his mum and dad in Hackney and spends all his time playing guitar or tending to his luscious ginger afro. Indigo is 17 and new to London, having grown up in the care system after being found by her mum's dead body as a toddler. All Indigo wants is to know who she really is. When Bailey and Indigo meet at sixth form, sparks fly. But when Bailey becomes the target of a homeless man who seems to know more about Indigo than is normal, Bailey is forced to make a choice he should never have to make.
A story about falling in love and everyone's need to belong.
Thoughts:
I absolutely loved Patrice Lawrence's debut novel Orangeboy, so when I had the opportunity to read Indigo Donut I jumped at the chance. I also bought myself a copy, because I knew it was going to be an amazing read. It really was! I think Patrice Lawrence has just become one of my auto-buy authors. Her writing is exceptional. Indigo Donut is everything I look for in a story. Gripping, many layers, complex and most importantly for me, it has great heart.
Indigo Donut is about a girl named Indigo who is in foster care. She is fed up of everyone thinking they know everything about her, due to being in the press after being found by her mum's dead body when she was a toddler. It was said that Indigo's father killed the mother. Her father was imprisoned. Some of the girls at Indigo's new school pick up on Indigo's background and use it to torment her. (These girls actually enraged me whilst I was reading!) But then Bailey's story line began to pick up! ❤ Bailey is known for his ginger Afro and his 'cool' dad who happens to be a social worker. Bailey can't put up with the bullying and sticks up for Indigo. From that day on, Indigo and Bailey grow closer. Indigo's early life is a mystery and Bailey is intrigued, especially after a run in with a homeless man that seems to be stalking them…
I thought Indigo Donut was an absolutely stunning piece of fiction. It really explored family and identity. I grew to love both Indigo and Bailey throughout and loved following their stories and their relationship. I adored Indigo's foster mother. Patrice Lawrence really has a way of making you fall for her characters and root for them.
Patrice Lawrence's writing is simply beautiful. There was a wonderful analogy about a donut.
'She was like one of those donuts from the cheap shelves in supermarkets. Everything seemed all right until you bit into the middle and there was just nothing.'  – Indigo Donut
This quotation really spoke to me and completely sums up why I enjoy Patrice Lawrence's writing. I could absolutely imagine how Indigo felt about herself.
'Though when she was with Bailey last night, it was like there'd be something else inside her, something sweet and good. Not filling the space all the way up, but enough. You think there's nothing there and then the first splodge of jam hits your tongue. You just want to smile.'- Indigo Donut
❤ I just adore Patrice's writing. In just a few sentences, she totally captured Indigo's feelings and my heart. I can't help but rave about this book. It totally exceeded my expectations. More please!
Would I recommend it?:
Without a doubt!
'Donut' miss this book!