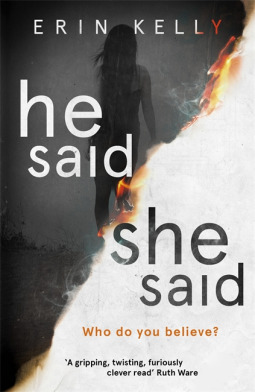 How did I get it?:
I borrowed it from Beth!
Synopsis:
In the hushed aftermath of a total eclipse, Laura witnesses a brutal attack. She and her boyfriend Kit call the police, and in that moment, it is not only the victim's life that is changed forever. Fifteen years on, Laura and Kit live in fear, and while Laura knows she was right to speak out, the events that follow have taught her that you can never see the whole picture: something, and someone, is always in the dark.
Thoughts:
I have really enjoyed Erin Kelly's books in the past, so when Beth badgered me to read this one, it didn't take me long to decide to bump it up my TBR. I had seen so much buzz around it in the blogosphere that I was somewhat nervous to read it. That hype monster gets books all too often.
He Said/She Said is about a couple Laura and Kit. Kit is an eclipse chaser and travels around the world to be present at each eclipse event, if the weather permits it. Laura starts to become more interested in Kit's hobby and begins to travel with him. It is at a special eclipse festival in 1999, that Laura and Kit witness a terrible event. Laura sees more than Kit, but Kit sees enough for it to haunt them years later in their lives. The story alternates between Laura and Kit, both in the present time and events in the past. In the present, the couple have changed their names and have no presence on social media. Laura is suffering from anxiety following the awful situation and the aftermath. Slowly, the truth about what happened in 1999 is revealed…
It's so hard to review thrillers when you don't want to give too much away for those that haven't read it. I loved the fact that the truth was slowly drip fed to the reader. I was desperate to know what had happened to Kit and Laura to make them so fearful of being found. I thought Erin Kelly used the slow reveal sublimely. It certainly kept me turning the pages.
I, in no way, predicted the ending. It was one that actually made my eyes widen! If you're looking for a decent thriller that'll keep you guessing, then try He Said/She Said. 
Would I recommend it?:
Of course! 4.5 stars
A simply excellent thriller!