This feature is going to showcase some recent reads that I haven't fully reviewed. This may be because I didn't finish the book or that I didn't have enough to say to warrant a full and fair review of a book that I'm sure others will absolutely adore. I figure this way the books will be highlighted and someone somewhere might find the right book for them!
(BOOK IMAGES GO TO GOODREADS)
The Pearl Thief- Elizabeth Wein
Before Verity…there was Julie.
When fifteen-year-old Julia Beaufort-Stuart wakes up in the hospital, she knows the lazy summer break she'd imagined won't be exactly like she anticipated. And once she returns to her grandfather's estate, a bit banged up but alive, she begins to realize that her injury might not have been an accident. One of her family's employees is missing, and he disappeared on the very same day she landed in the hospital.
Desperate to figure out what happened, she befriends Euan McEwen, the Scottish Traveller boy who found her when she was injured, and his standoffish sister, Ellen. As Julie grows closer to this family, she experiences some of the prejudices they've grown used to firsthand, a stark contrast to her own upbringing, and finds herself exploring thrilling new experiences that have nothing to do with a missing-person investigation.
Her memory of that day returns to her in pieces, and when a body is discovered, her new friends are caught in the crosshairs of long-held biases about Travellers. Julie must get to the bottom of the mystery in order to keep them from being framed for the crime.
The Sudden Appearance of Hope- Claire North
Listen.
All the world forgets me. First my face, then my voice, then the consequences of my deeds.
So listen. Remember me.
My name is Hope Arden, and you won't know who I am. We've met before – a thousand times. But I am the girl the world forgets.
It started when I was sixteen years old. A slow declining, an isolation, one piece at a time.
A father forgetting to drive me to school. A mother setting the table for three, not four. A teacher who forgets to chase my missing homework. A friend who looks straight through me and sees a stranger.
No matter what I do, the words I say, the people I hurt, the crimes I commit – you will never remember who I am.
That makes my life tricky. But it also makes me dangerous . . .
The Sudden Appearance of Hope is the tale of the girl no one remembers. But this gripping story – of love and loss, of hope and despair, of living in the moment and dying to leave a mark – is novel that will stay with you for ever.
The Girl In The Red Coat- Kate Hamer
Eight-year-old Carmel has always been different – sensitive, distracted, with an heartstopping tendency to go missing. Her mother Beth, newly single, worries about her daughter's strangeness, especially as she is trying to rebuild a life for the two of them on her own.
When she takes Carmel for an outing to a local festival, her worst fear is realised: Carmel disappears into the crowd. Unable to accept the possibility that her daughter might be gone for good, Beth embarks on a mission to find her. Meanwhile, Carmel begins an extraordinary and terrifying journey of her own. But do the real clues to Carmel's disappearance lie in the otherworldly qualities her mother had only begun to guess at?
The Last Days of Summer- Vanessa Ronan
She can forgive. They can't forget.
After ten years in the Huntsville State Penitentiary, Jasper Curtis returns home to live with his sister and her two daughters. Lizzie does not know who she's letting into her home: the brother she grew up loving or the monster he became.
Teenage Katie distrusts this strange man in their home but eleven-year-old Joanne is just intrigued by her new uncle.
Jasper says he's all done with trouble, but in a forgotten prairie town that knows no forgiveness, it does not take long for trouble to arrive at their door.
Perfect- Cecelia Ahern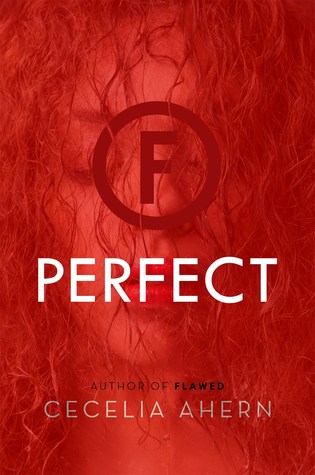 Celestine North is Flawed.
Ever since Judge Crevan declared her the number one threat to the public, she has been a ghost, on the run with Carrick, the only person she can trust. 
But Celestine has a secret—one that could bring the entire Flawed system crumbling to the ground. A secret that has already caused countless people to go missing. 
Judge Crevan is gaining the upper hand, and time is running out for Celestine. With tensions building, Celestine must make a choice: save just herself or risk her life to save all Flawed people.
Have you read and enjoyed any of these books? I'd love to know your thoughts!