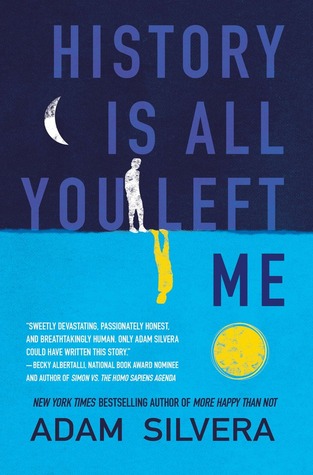 How did I get it?:
I bought it!
Previously reviewed by the same author:
More Happy Than Not
Synopsis:
When Griffin's first love and ex-boyfriend, Theo, dies in a drowning accident, his universe implodes. Even though Theo had moved to California for college and started seeing Jackson, Griffin never doubted Theo would come back to him when the time was right. But now, the future he's been imagining for himself has gone far off course. 
To make things worse, the only person who truly understands his heartache is Jackson. But no matter how much they open up to each other, Griffin's downward spiral continues. He's losing himself in his obsessive compulsions and destructive choices, and the secrets he's been keeping are tearing him apart. 
If Griffin is ever to rebuild his future, he must first confront his history, every last heartbreaking piece in the puzzle of his life.
Thoughts:
I enjoyed More Happy Than Not but this book completely surpassed it in my opinion. It was such a touching read. I knew it was going to be a heart-breaking one as I had heard as much, but I didn't expect it to have such an impact on me. Adam Silvera is a truly beautifully writer.
History Is All You Left Me centres around Griff who has just lost his first love and ex-boyfriend in a tragic accident. Theo had moved to California for college and started a new relationship with a guy called Jackson. Griffin always thought that Theo would come back to him, but now the future has completely turned around for Griffin. The only person that understands his heartache is Jackson. Even though they begin to open up to one another, Griffin is spiralling out of control. His compulsions are getting worse and secrets are tearing him apart. To move on, Griffin is going to have to face up to his history.
I loved that this story flipped between past and present times. I'm always tentative when I know a book jumps about between time periods, but for this book it really did work. I loved reading about their history and how they were doing in present times. It really made me feel like I could get to know the characters. The characters are so well written. They are absolutely messed up which is understandable considering a very special guy to them has died. I could feel Griffin's pain through the pages and although I don't agree with everything he did, I could understand why he had acted in that way.
As for the representation of OCD? A round of applause to Adam Silvera. I don't have OCD myself, but have several friends who do and the representation was so well done. I could really sympathise with Griffin.
There is romance in this book. A lot of romance. I have mixed feelings about it. I loved Griffin and Theo's relationship and was rooting for them at the start. Then when he moved away to California everything started to get a little messy. Actually I lie, very, very messy! There was a lot of heartache between many characters and so much hurt. This certainly isn't an 'easy' read.
This book is heartbreaking, but so very worth reading. It's a beauty that's for sure and I can't wait to read Adam Silvera's most recent book!
Would I recommend it?:
Without a doubt!
A beautiful read. I didn't expect to like this one as much!