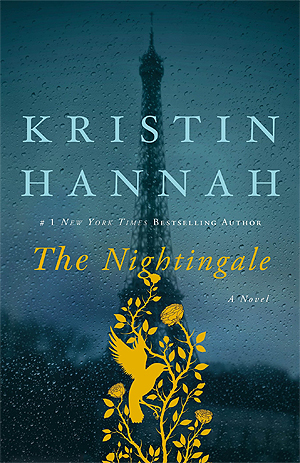 How did I get it?:
I borrowed it from Beth!
Synopsis:
Despite their differences, sisters Vianne and Isabelle have always been close. Younger, bolder Isabelle lives in Paris while Vianne is content with life in the French countryside with her husband Antoine and their daughter. But when the Second World War strikes, Antoine is sent off to fight and Vianne finds herself isolated so Isabelle is sent by their father to help her.
As the war progresses, the sisters' relationship and strength are tested. With life changing in unbelievably horrific ways, Vianne and Isabelle will find themselves facing frightening situations and responding in ways they never thought possible as bravery and resistance take different forms in each of their actions.
Thoughts:
I remember reading a book by Kristin Hannah in my pre-blogging days. It absolutely broke my heart and I remember actually crying over it. Therefore, when I knew this book was about World War II, I knew it was going to be another book that would play with my emotions.
The Nightingale centres around Vianne and her sister Isabelle. We learn about their experiences through World War II. Vianne and Isabelle have had a hard life. Isabelle was only four when their mother died. Their father was traumatised by the First World War and has sent them away unable to look after his daughters. Vianne met her husband Antoine. Isabelle ended up feeling very neglected by her father and became rebellious. Later, as World War II began Vianne and Isabelle began to experience curfews, rationing and blackouts. Isabelle is determined to do something worthwhile. She hates living life the way she is and joins the resistance fighters. Vianne meanwhile, has a Nazi soldier living in her house. Vianne is keen to keep her daughter safe. However, when people start to be taken away, she struggles about what to do…
I thought this book was so expertly written. We all have heard about what life was like for people in World War II, but I had never really thought about the struggles they must go through. Vianne had to constantly battle between whether she should work with the enemy to get small favours for those she loves or fight against the opposition for what's right.
I can't even begin to imagine what life was like for those living in that time period. Never knowing when it was going to stop. It's terrifying. Kristin Hannah doesn't shy away from describing how awful their experiences were. This book is heart-breaking but so very important to read.
Would I recommend it?:
Of course!
I highly recommend this book, especially if you're into historical fiction!