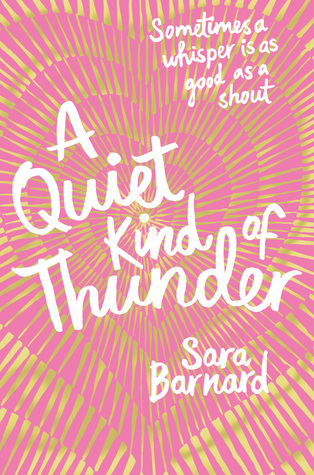 How did I get it?:
I bought it!
Previously reviewed by the same author:
Beautiful Broken Things
Synopsis:
Steffi doesn't talk, but she has so much to say.
Rhys can't hear, but he can listen.
Their love isn't a lightning strike, it's the rumbling roll of thunder.
Steffi has been a selective mute for most of her life – she's been silent for so long that she feels completely invisible. But Rhys, the new boy at school, sees her. He's deaf, and her knowledge of basic sign language means that she's assigned to look after him. To Rhys, it doesn't matter that Steffi doesn't talk, and as they find ways to communicate, Steffi finds that she does have a voice, and that she's falling in love with the one person who makes her feel brave enough to use it. 
Thoughts:
I really enjoyed Sara Banard's debut novel so I was super excited to get to read A Quiet Kind Of Thunder. I always worry when I enjoy a debut so much because sometimes the next book can't quite live up to it. However, A Quiet Kind Of Thunder was a stunning read which was both cute and moving at the same time.
It centres around Steffi who has been unable to talk to others that aren't close to her. She is a selective mute. It doesn't mean she chooses not to speak, she physically finds it difficult and can't speak to others. No one has ever been able to put their finger on why Steffi can't speak to others. There are a lot of things that have happened in Steffi's young life, but the selective mutism came before some tragic events. Steffi is starting sixth form with the pressure of some new people and having to talk as her best friend has moved to college. Steffi knows staying at sixth form is easier, because others are aware of her difficulties. A new guy, Rhys, starts the sixth form. He is deaf and she is asked to be his guide because she knows sign language. Rhys and Steffi begin to build a beautiful friendship. He helps her learn more about sign language and Steffi helps him around sixth form. Gradually they grow closer and develop feelings for one another. They become very dependent on one another. It's the sweetest thing!
This book won't be for every reader as it is quite sickly sweet with the romance. However, I was fully on board with it. It was a cute, believable romance. It wasn't just about that though. It was about Steffi's journey to recovery. Life wasn't easy for her just because she had found someone. I appreciated the representation of selective mutism and social anxiety. It wasn't an easy fix and I adore that in a book. Give me more realistic mental health books! 🙂
Would I recommend it?:
Of course!
I highly recommend this sweet read!