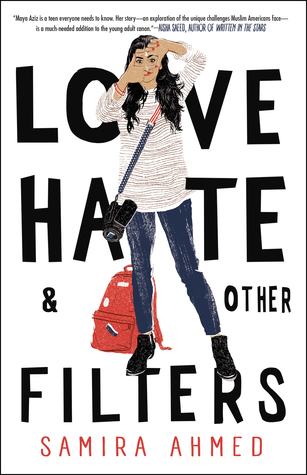 How did I get it?:
NetGalley- thanks to Hot Key Books/Bonnier
Synopsis:
A searing #OwnVoices coming-of-age debut in which an Indian-American Muslim teen confronts Islamophobia and a reality she can neither explain nor escape–perfect for fans of Angie Thomas, Jacqueline Woodson, and Adam Silvera.
American-born seventeen-year-old Maya Aziz is torn between worlds. There's the proper one her parents expect for their good Indian daughter: attending a college close to their suburban Chicago home, and being paired off with an older Muslim boy her mom deems "suitable." And then there is the world of her dreams: going to film school and living in New York City—and maybe (just maybe) pursuing a boy she's known from afar since grade school, a boy who's finally falling into her orbit at school.
There's also the real world, beyond Maya's control. In the aftermath of a horrific crime perpetrated hundreds of miles away, her life is turned upside down. The community she's known since birth becomes unrecognizable; neighbors and classmates alike are consumed with fear, bigotry, and hatred. Ultimately, Maya must find the strength within to determine where she truly belongs.
Thoughts:
I have heard so much about this book over the past few months. I wanted to read it because I knew it was an important story for the author. One of my best friends is Muslim and Islamophobia is something that I feel very, very strongly about. This book wasn't quite the amazing read that I wanted it to be. It was incredibly powerful at points and heart-breaking at times.
It centres around Maya who is torn between two paths. There's the path in which her parents want her to be the good Indian daughter, get a respectable job and marry a suitable Muslim boy and the path where she wants to follow her dreams and go to NYU to study film and pursue a guy that she's interested in. Alongside Maya's confusion, there's a horrific crime. Her peers, neighbours and community become consumed with fear and hatred. She experiences Islamophobia. Maya has to find her way in a world that seems to hate her and parents that are determined for her to be a certain way.
Maya came across as a teen very well. Apart from the mention of being Muslim, I don't feel like she had much of a Muslim identity. I don't know if that was intentional by the author- making her seem like all her peers. It was just something I observed.
I really enjoyed reading a story from a different voice. I do think I expected more about Islamophobia and I got more about the romance. Don't get me wrong, it was good to read. I enjoyed Maya as a character and thought her romance was very sweet. I liked how this book had important messages about not judging those on their race and religion. Maya and her parents were often discriminated against, even though they'd been in the community for a while, they weren't fully accepted due to their religion which is infuriating.
Would I recommend it?:
Yes! 3.5 stars
A fabulous debut about love but also sadly, hate!