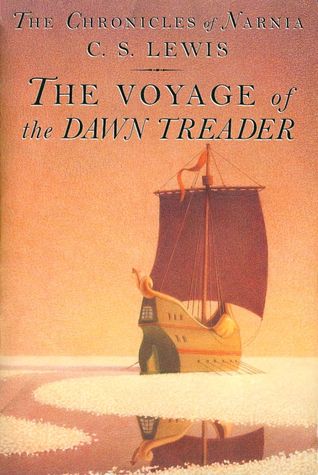 How did I get it?:
I bought it!
Previously reviewed by the same author:
Synopsis:
Lucy and Edmund, with their dreadful cousin Eustace, get magically pulled into a painting of a ship at sea. That ship is the Dawn Treader, and on board is Caspian, King of Narnia. He and his companions, including Reepicheep, the valiant warrior mouse, are searching for seven lost lords of Narnia, and their voyage will take them to the edge of the world. Their adventures include being captured by slave traders, a much-too-close encounter with a dragon, and visits to many enchanted islands, including the place where dreams come true.
Thoughts:
The Lion, The Witch and The Wardrobe will forever be my favourite Narnia book. I have to admit that I haven't been the biggest fan of the other books in the series. Don't get me wrong, they're easy enough to read, it's just something about them that I don't seem to connect with as much as other readers do. That said, I enjoyed The Voyage Of The Dawn Treader. 
The story starts with Lucy and Edmund Pevensie returning to Narnia. However, this time they had their rather annoying cousin Eustace alongside. I did miss Peter and Susan at the start but soon I adapted to the change and enjoyed reading the story with Lucy, Edmund and Eustace. In this story, they are thrown from the 'real' world into the ocean that borders Narnia. They are taken on board the Dawn Voyager and reunited with characters such as Caspian from the previous story. Reepicheep also makes an entrance! All of the crew are journeying to try and discover more about their world and stepping into the mighty Aslan's country.
This story does have an interesting plot, but for me it took a little too long to get going. As soon as the adventure really began it did make it easier to read! I did appreciate how Eustace changed though. It's great to see that in a children's book.
I don't think I ever completed this series as a child so it's interesting to read it as an adult. I particularly like finding the moral to the story as there often seems to be with this Narnia series. I do find C.S Lewis to be a little preachy for my liking and that's why I think I don't enjoy his books as much as others. Perhaps if I could get past that then I could enjoy them more!

For Beth's wonderful review, please check out her blog HERE.
Would I recommend it?:
Yes!
Next up in the Beth and Chrissi do Kid-Lit Challenge (February):
Matilda- Roald Dahl