This month I'm trying something new! A monthly TBR. I usually have an idea of what I'm going to be reading in the month but have never really posted about it. Last month I saw this meme on Tina's blog over at Reading Between The Pages. I decided to give it a go!
So here is my cautious TBR for February. Book images go to Goodreads, incase you want to add it to your TBR!
The Marriage Pact- Michelle Richmond
Goodreads Synopsis
Newlyweds Alice and Jake are a picture-perfect couple. Alice, once a singer in a well-known rock band, is now a successful lawyer. Jake is a partner in an up-and-coming psychology practice. Their life together holds endless possibilities. After receiving an enticing wedding gift from one of Alice's prominent clients, they decide to join an exclusive and mysterious group known only as The Pact.
The goal of The Pact seems simple: to keep marriages happy and intact, and most of its rules make sense: Always answer the phone when your spouse calls. Exchange thoughtful gifts monthly. Plan a trip together once per quarter. . . .
Never mention The Pact to anyone.
Alice and Jake are initially seduced by the glamorous parties, the sense of community, their widening social circle of like-minded couples–and then one of them breaks the rules. The young lovers are about to discover that for adherents to The Pact, membership, like marriage, is for life, and The Pact will go to any lengths to enforce that rule. For Jake and Alice, the marriage of their dreams is about to become their worst nightmare.
I'm looking forward to this one! I shall be 'Talking About' it with my sister, Beth.
The Heart's Invisible Furies- John Boyne

Goodreads Synopsis
Cyril Avery is not a real Avery or at least that's what his adoptive parents tell him. And he never will be. But if he isn't a real Avery, then who is he?
Born out of wedlock to a teenage girl cast out from her rural Irish community and adopted by a well-to-do if eccentric Dublin couple via the intervention of a hunchbacked Redemptorist nun, Cyril is adrift in the world, anchored only tenuously by his heartfelt friendship with the infinitely more glamourous and dangerous Julian Woodbead.
At the mercy of fortune and coincidence, he will spend a lifetime coming to know himself and where he came from – and over his three score years and ten, will struggle to discover an identity, a home, a country and much more.
Here's another book that I'll be reading with Beth! We read about 2 books a month for our feature 'Talking About' where we ask each other questions about the book. I have loved John Boyne's work for quite some time, so I'm quietly confident that I'll like this one!
Matilda- Roald Dahl

Goodreads Synopsis
Matilda is a sweet, exceptional young girl, but her parents think she's just a nuisance. She expects school to be different but there she has to face Miss Trunchbull, a kid-hating terror of a headmistress. When Matilda is attacked by the Trunchbull she suddenly discovers she has a remarkable power with which to fight back. It'll take a superhuman genius to give Miss Trunchbull what she deserves and Matilda may be just the one to do it!
This is the Kid-Lit book I'll be reading in February. Another regular feature on my blog is Beth and Chrissi do Kid-Lit where we read children's books. I absolutely love Matilda it's a childhood favourite of mine.
Twilight- Stephenie Meyer

Goodreads Synopsis
About three things I was absolutely positive.
First, Edward was a vampire.
Second, there was a part of him—and I didn't know how dominant that part might be—that thirsted for my blood.
And third, I was unconditionally and irrevocably in love with him.
It has been years since I reread this book. It should be an interesting one. Once again, it's for a feature with Beth. This time Banned Books!
There's Someone Inside Your House- Stephanie Perkins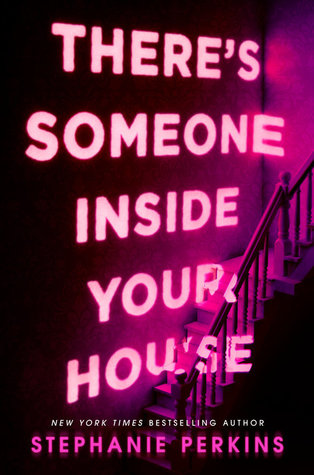 Goodreads Synopsis
Makani Young thought she'd left her dark past behind her in Hawaii, settling in with her grandmother in landlocked Nebraska. She's found new friends and has even started to fall for mysterious outsider Ollie Larsson. But her past isn't far behind.
Then, one by one, the students of Osborne Hugh begin to die in a series of gruesome murders, each with increasingly grotesque flair. As the terror grows closer and her feelings for Ollie intensify, Makani is forced to confront her own dark secrets.
I'm intrigued by this book. I'm used to Stephanie Perkins writing YA contemporary.
Have you read any of these books? What did you make of them? Let me know!