Wow, February went FAST. Or is it just because January feels like the longest month ever, every year? Anyway, I managed to read all but one of the books on my February list. I didn't finish There's Someone Inside Your House. My thoughts about it will come later on my The Ones That Got Away feature, so I won't say anymore on that one.
Here's my tentative TBR list for March! Thanks to Tina's over at Reading Between The Pages for hosting!
Close To Home- Cara Hunter
Goodreads Synopsis
Someone took Daisy Mason. Someone YOU KNOW.
Last night, 8-year-old Daisy Mason disappeared from her parents' summer party. No one in the quiet suburban street saw anything – or at least that's what they're saying. DI Adam Fawley is trying to keep an open mind. But he knows that nine times out of ten, it's someone the victim knew. That means someone is lying. And that Daisy's time is running out…
Introducing DI Fawley and his team of Oxford detectives, CLOSE TO HOME is a pulse-pounding race against time and a penetrating examination of what happens to a community when a shocking crime is committed by one of its own.
I will be reading this book as part of the Talking About feature that I do with my sister, Beth.
A List Of Cages- Robin Roe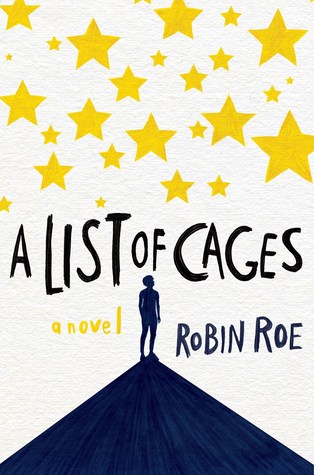 Goodreads Synopsis
When Adam Blake lands the best elective ever in his senior year, serving as an aide to the school psychologist, he thinks he's got it made. Sure, it means a lot of sitting around, which isn't easy for a guy with ADHD, but he can't complain, since he gets to spend the period texting all his friends. Then the doctor asks him to track down the troubled freshman who keeps dodging her, and Adam discovers that the boy is Julian—the foster brother he hasn't seen in five years.
Adam is ecstatic to be reunited. At first, Julian seems like the boy he once knew. He's still kindhearted. He still writes stories and loves picture books meant for little kids. But as they spend more time together, Adam realizes that Julian is keeping secrets, like where he hides during the middle of the day, and what's really going on inside his house. Adam is determined to help him, but his involvement could cost both boys their lives…
I have heard amazing things about this book so I am a little apprehensive to read it. However, I'm going to try to tackle it this month!
The Girl Of Ink and Stars- Kiran Millwood Hargrave
Goodreads Synopsis:
Forbidden to leave her island, Isabella Riosse dreams of the faraway lands her father once mapped.
When her closest friend disappears into the island's Forgotten Territories, she volunteers to guide the search. As a cartographer's daughter, she's equipped with elaborate ink maps and knowledge of the stars, and is eager to navigate the island's forgotten heart.
But the world beyond the walls is a monster-filled wasteland – and beneath the dry rivers and smoking mountains, a legendary fire demon is stirring from its sleep. Soon, following her map, her heart and an ancient myth, Isabella discovers the true end of her journey: to save the island itself.
I've heard good things about this book, so I was super pleased when Beth picked it for our Kid-lit book for March.
Fallen Angels- Walter Dean Myers
Goodreads Synopsis
A coming-of-age tale for young adults set in the trenches of the Vietnam War in the late 1960s, this is the story of Perry, a Harlem teenager who volunteers for the service when his dream of attending college falls through. Sent to the front lines, Perry and his platoon come face-to-face with the Vietcong and the real horror of warfare. But violence and death aren't the only hardships. As Perry struggles to find virtue in himself and his comrades, he questions why black troops are given the most dangerous assignments, and why the U.S. is there at all. 
Hmmm… I'm not too sure what I'll make of this one, but I'll give it a go! It's for the Banned Books feature that I also do with my sister, Beth!
Have you read any of these books? What did you think? Let me know!