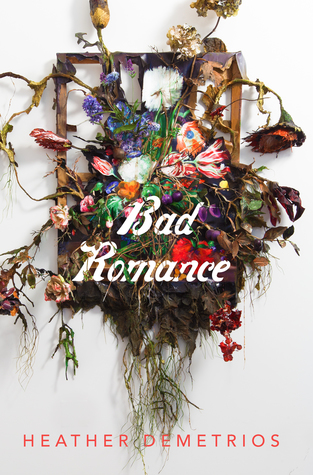 How did I get it?:
It was a present from my sister, Beth!
Previously reviewed by the same author:
Synopsis:
Grace wants out. Out of her house, where her stepfather wields fear like a weapon and her mother makes her scrub imaginary dirt off the floors. Out of her California town, too small to contain her big city dreams. Out of her life, and into the role of Parisian artist, New York director—anything but scared and alone.
Enter Gavin: charming, talented, adored. Controlling. Dangerous. When Grace and Gavin fall in love, Grace is sure it's too good to be true. She has no idea their relationship will become a prison she's unable to escape. 
Deeply affecting and unflinchingly honest, this is a story about spiraling into darkness—and emerging into the light again.
Thoughts:
Oh my goodness. This book was absolutely incredible. I had high expectations for this book. I really did. I love Heather's writing, but this book was something else. I think it's such a powerful read that I wish was more widely read. I might as well just end this review here and just say BUY IT BUY IT READ IT READ IT!… but I think you need more convincing than that.
Bad Romance centres around Grace who has a pretty tough home life. Her stepfather scares her and her mother's OCD makes Grace's life incredibly hard. Grace is constantly doing jobs for her stepfather and scrubbing away making sure everything is super clean for her mother. Grace wants to escape her life. She wants to direct in NYC. She certainly has big dreams. She then meets Gavin. He's totally gorgeous and talented. Grace can't believe her luck. However, poor Grace actually finds herself in a controlling relationship. Grace and Gavin fall in love quickly and deeply and before she knows it, Grace is trapped in a dangerous relationship…
I love how Bad Romance is told. It recalls what has happened in the relationship with Gavin. Right from the start, the reader knows it's not good news, but she slowly tells us the downfall of the relationship. Oh my goodness, it was such an intense read. It's not easy to read but at the same time it was easy to keep turning the pages, desperate for Grace to escape from her toxic relationship and rubbish life.
Grace is an adorable character. She puts up with so much crap from her family. It was easy to see why she fell for Gavin's advances so quickly. She just wanted to be loved. He was her hero, helping her get away from her family and it was easy to see why she was taken by him. I loved that she had strong friendships and I loved her theatre adoration. Even though we didn't see Grace's sister so much, it was nice to know she had that support system there as well. It was so tough to read about Grace's experiences with Gavin and her stepfather because I was rooting for her to have her happy ending. I really grew to care for her over the course of the story.
I think this book is so vital because it sends a warning about how easy it can be to get into an unhealthy relationship. Gavin made my skin crawl. He really did. I hated how he made Grace feel and how he controlled her so much that she wasn't even allowed to be friendly towards her male friends. He also affected her dreams. Grr, Gavin made me mad!
I will remember this book because I think it's such an important, educative read. It will stay with me for a while.
Would I recommend it?:
Without a doubt!
An incredible, intense read about a very dangerous relationship!