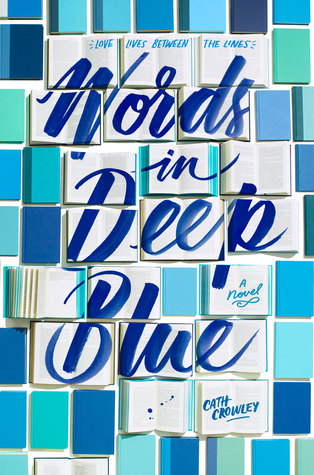 How did I get it?:
Netgalley- thanks to Hatchette Children's Books
Synopsis:
This is a love story.
It's the story of Howling Books, where readers write letters to strangers, to lovers, to poets.
It's the story of Henry Jones and Rachel Sweetie. They were best friends once, before Rachel moved to the sea. 
Now, she's back, working at the bookstore, grieving for her brother Cal and looking for the future in the books people love, and the words they leave behind.
Thoughts:
I had heard such good things about this book that I was almost worried to start reading it. That dreaded hype monster can get around sometimes and I was nervous that it might capture this book. I needn't have worried though. It was a fantastic, easy to read book. It both broke my heart and warmed it at the same time!
First things first, this book is about BOOKS. A book about books. A sure way to a bookworm's heart. It centres around Henry and Rachel who were best friends. Henry's family own a second hand book shop. Rachel moves away and doesn't keep in touch with Henry. After a terrible event, Rachel is back in town working at the bookshop and grieving at the same time. Books and letters bring Henry and Rachel together once again. It is just so precious.
There's a lot to love if you're a book lover in this story. There are so many book references as expected. It quite often brought a smile to my face when I came across a title that I knew. I loved that there was a nod to writing in books, annotating and leaving messages. I struggle to do that myself but I think it's such an adorable idea. Conversations about books with like-minded people? Yes please! I loved that there was a section of the bookstore for writing letters and putting them into books for others to find. Just so sweet!
I really enjoyed most of the characters in this story. I say most because Henry frustrated me a bit at times, so hung up on someone else who really wasn't worth the time. My favourite characters were Rachel and Henry's sister George. I loved how the characters were complex. Rachel was struggling with grief and finding it hard to keep on living. George was cautious and holding back. There was also no insta-love in this story which gives it a huge thumbs up for me. That's not to say there was no romance, but the romance that was included was definitely slow burning. I was also very surprised that I enjoyed the romance because… love triangles. Urgh, not my favourite thing. However, I didn't mind them in this book.
I think this book has a lot of heart. In less than 300 pages, I really got to know the characters. I was rooting for my favourites to find happiness and begin to move on. All of the characters experienced tough times, it wasn't easy going at all for them. I loved reading about them and would highly recommend this book, especially if you're into YA fiction.
Would I recommend it?:
Of course!
A fabulous read!